New Orleans Wedding Cakes
Like my page of groom's cakes, this is not directly related to my work as wedding photographer, but rather is a fun and inspirational showcase of some of my favorite wedding cakes that I've photographed in recent years. Cakes are very often featured as the central decorative focal point of a wedding, and they can vary in style dramatically!
Traditional Wedding Cakes
Let's start with a selection of traditional wedding cakes. Candles around the cake table look great, and I always love when the cake is positioned where there are warm-looking string lights in the background, such as this Zoe's Bakery cake from a wedding at The Greystone in Mandeville. This venue has a separate room where the cake can be located, or it can be placed in the main reception space as this one was.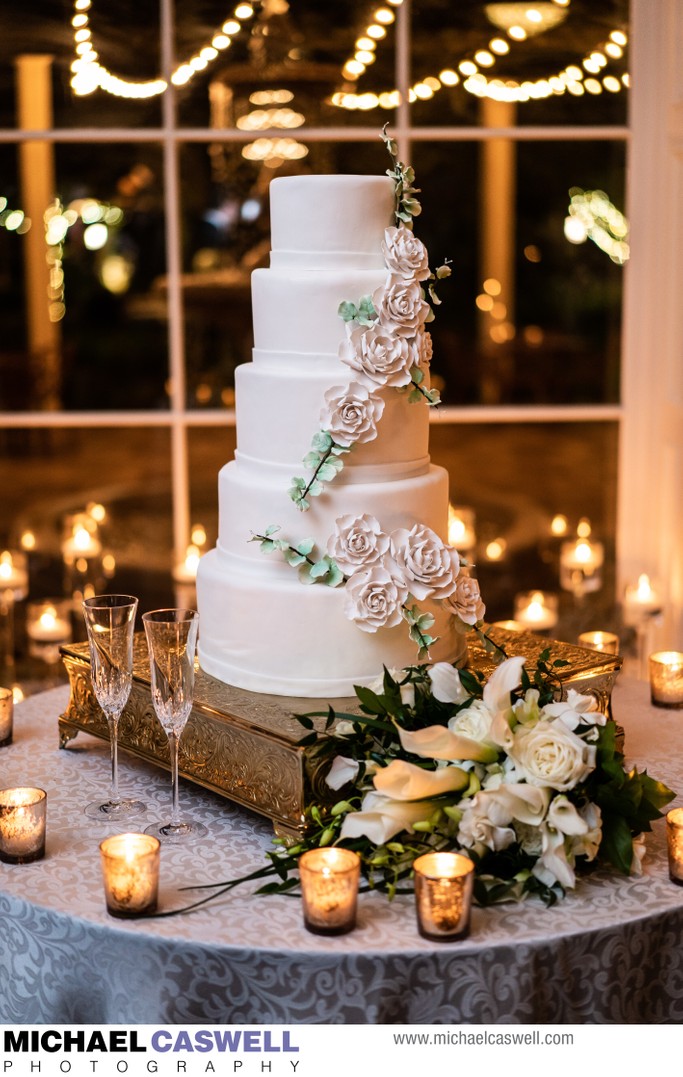 Intricate details accent the side of this La Louisiane creation for a Southern Oaks wedding in New Orleans. After the ceremony and formal group photographs are complete, this venue typically places the bride's and bridesmaids' bouquets (in this case, crafted by Nola Flora) on the table surrounding the cake, which nicely frames it.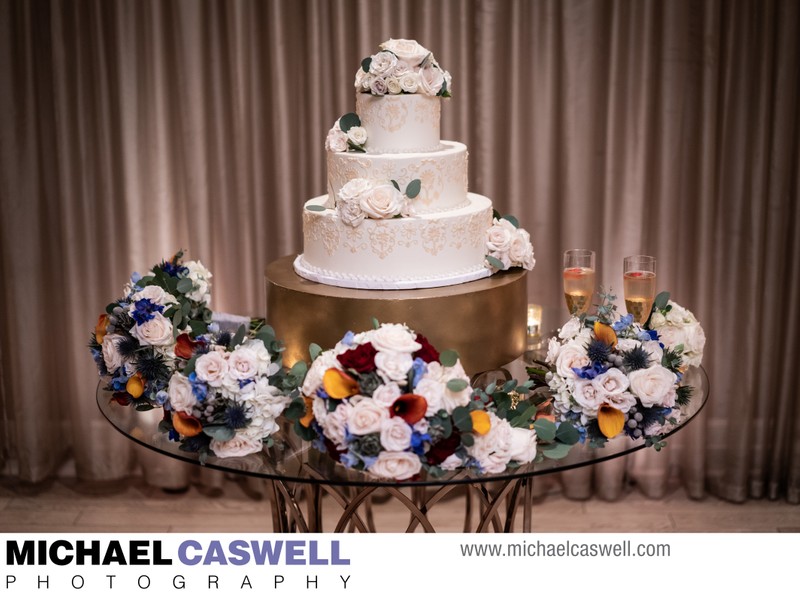 Some venues can create their couples' wedding cakes in-house, such as this example from the Royal Sonesta Hotel on Bourbon Street.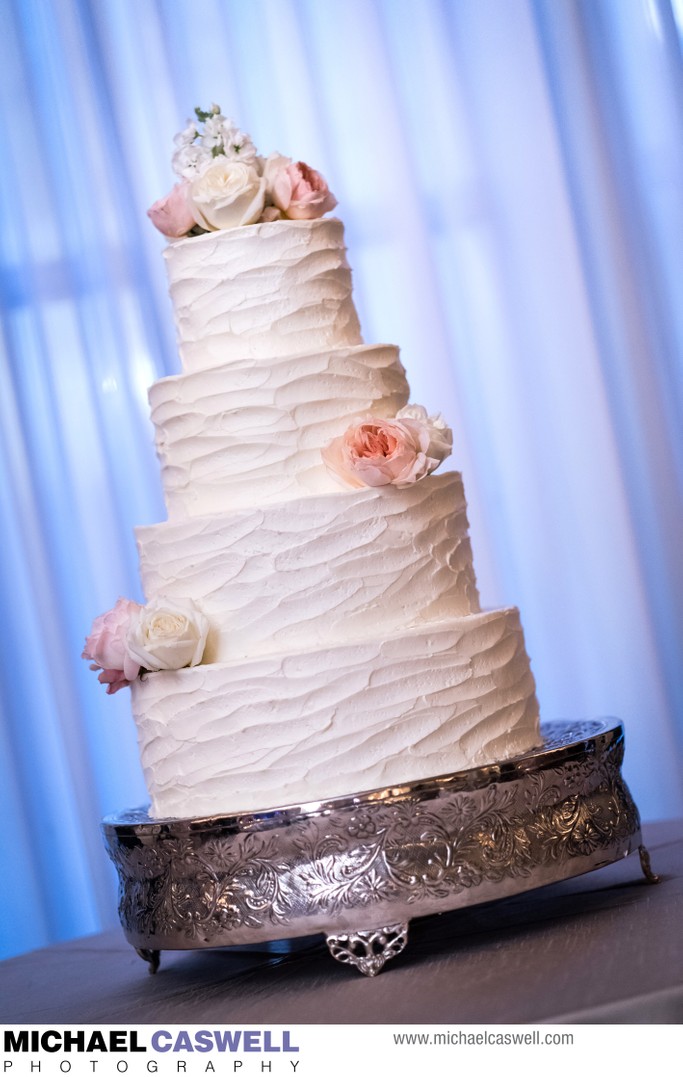 Rosy's Jazz Hall has a nice little nook in their reception space with a semi-circular table that is perfect for placement of the wedding cake. This cake was crafted by Gambino's, one of several well-known bakeries in the New Orleans area that has been around for decades.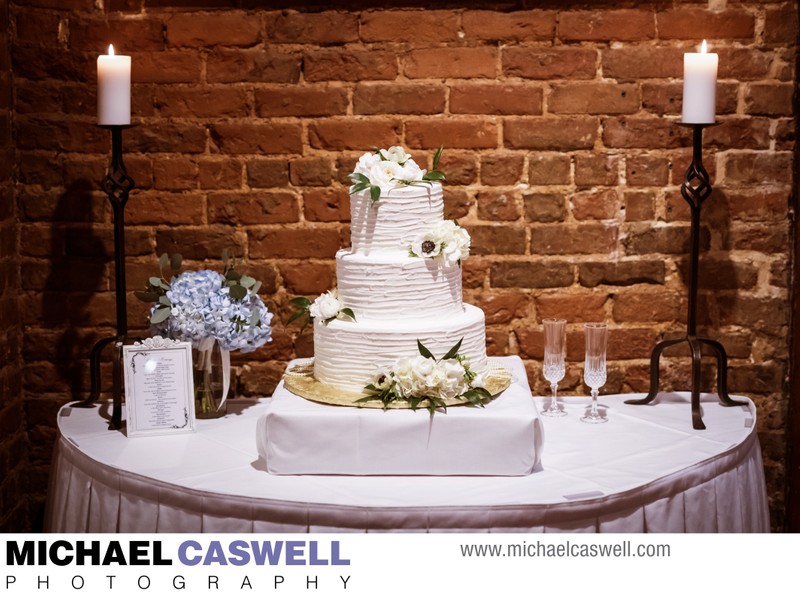 Bright red roses from Nola Flora accent and contrast nicely with the white icing of this Marguerites Cake at Southern Oaks.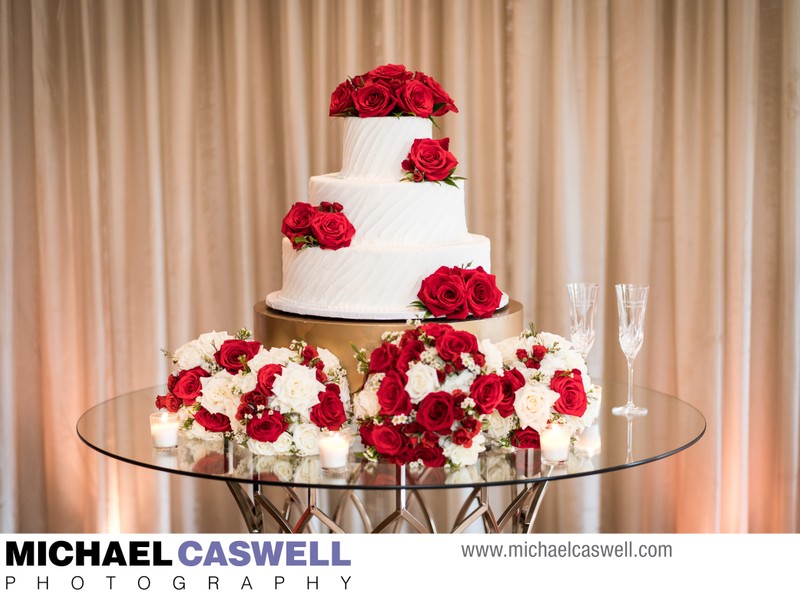 This was another in-house cake created by the Royal Sonesta Hotel's pastry chef, with the floral decorations by Beth's Florist.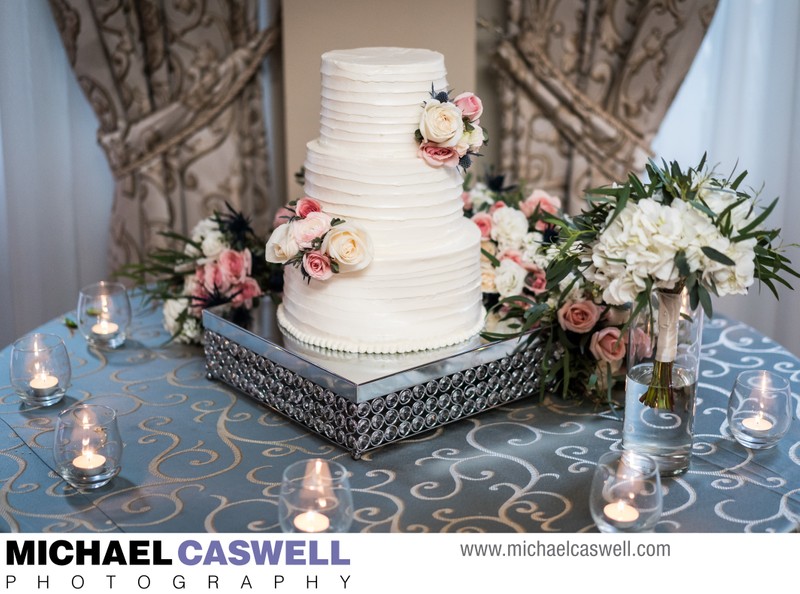 Swiss Confectionary created this lovely cake for a Hotel Mazarin Wedding.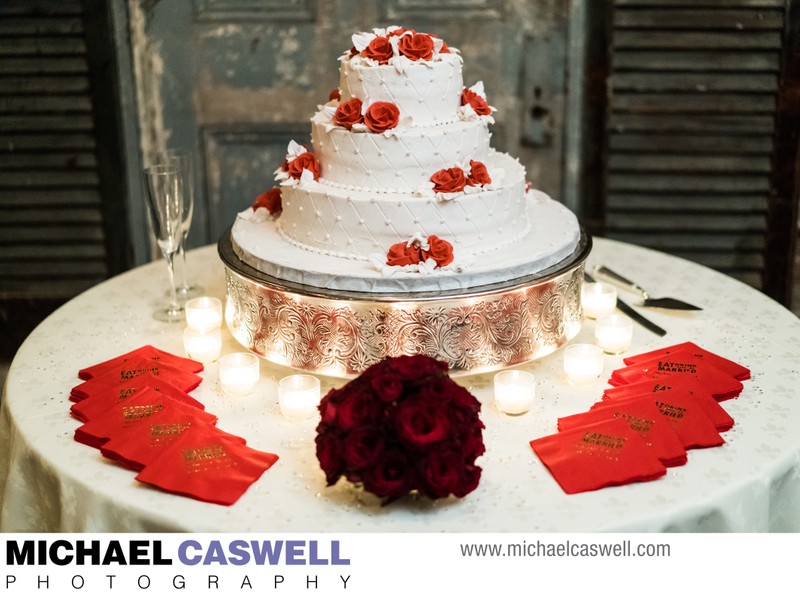 Frosted Fantasies by Nikki created this lovely naked cake, accented by flowers from Arbor House. A naked cake is one where a thin layer of icing is applied, and then partially scraped off, revealing some of the cake underneath. I love how these unique wedding cakes look in photographs!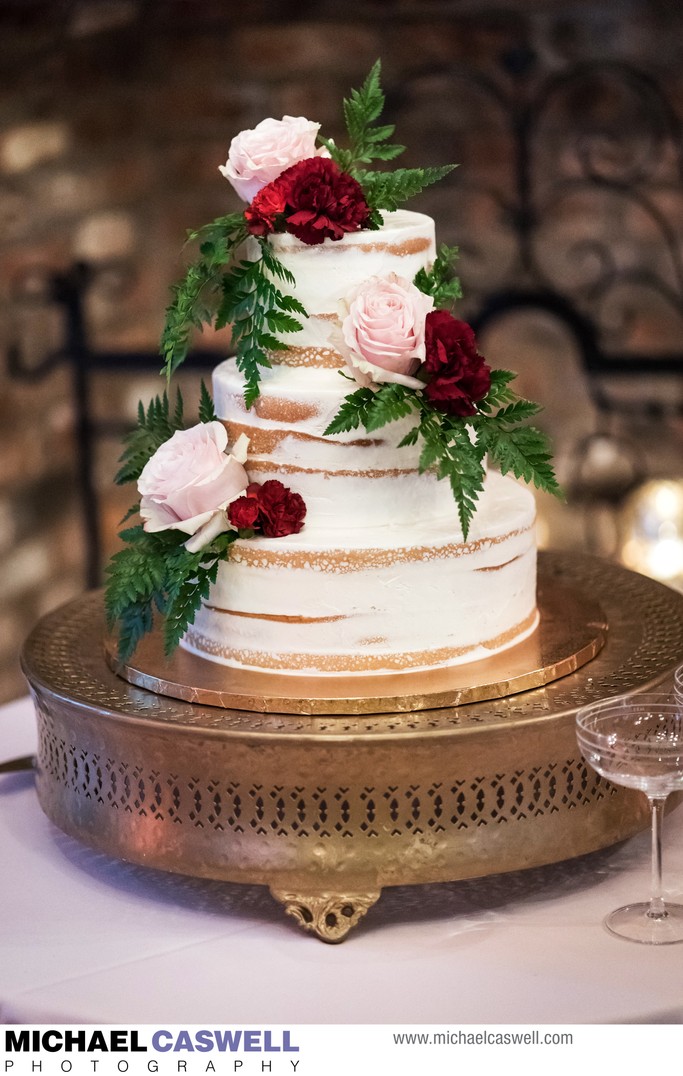 For this Latrobe's on Royal wedding, Chasing Wang created this tall, slender cake, perfectly smooth, and accented with beautiful white and pastel-shade flowers from The Plant Gallery running up the side.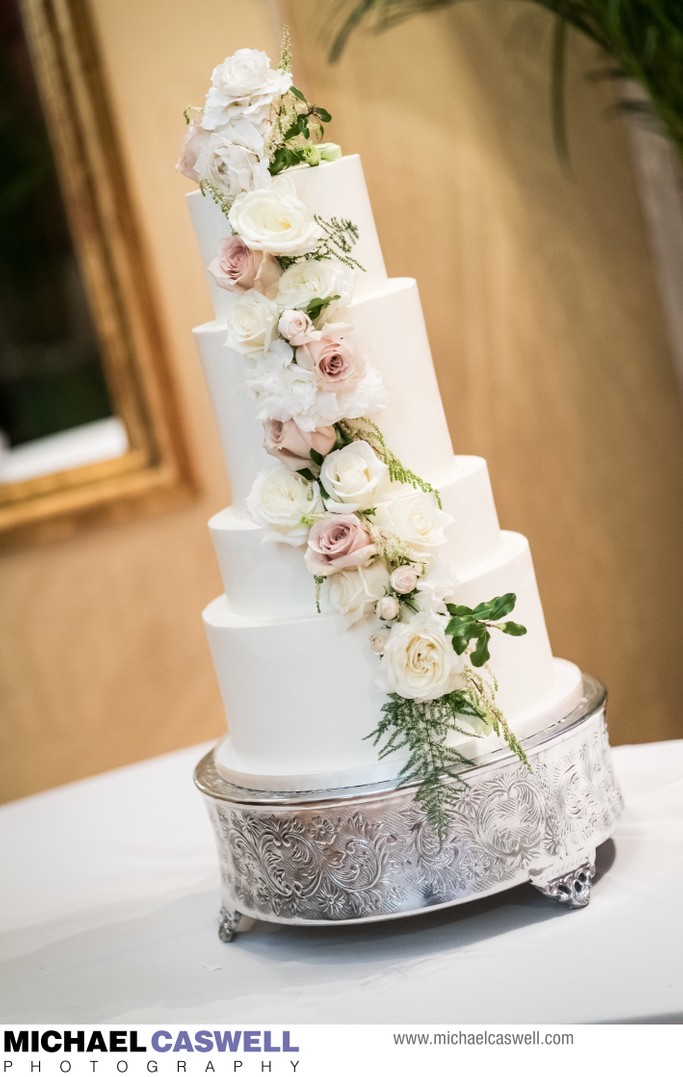 Another Latrobe's on Royal wedding, this one with a flower-adorned cake created by La Louisiane and further decorated by florist Leaf and Petal.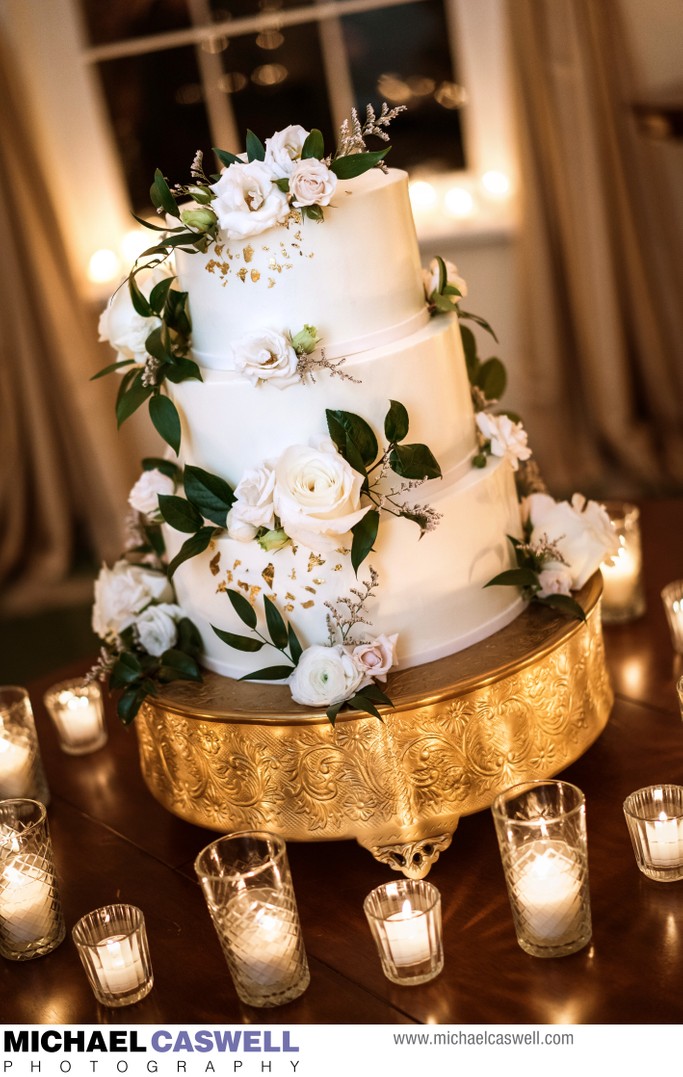 This Swiss Confectionary cake at a Hotel Mazarin wedding features a topper that reads, "and so the adventure begins," and is further accented by flowers from Fat Cat. At this venue, the cake is usually placed here, in the main reception room in front of this antique door and shutters with wonderful patina, though they'll also sometimes locate it in a brick nook near the entrance of the space.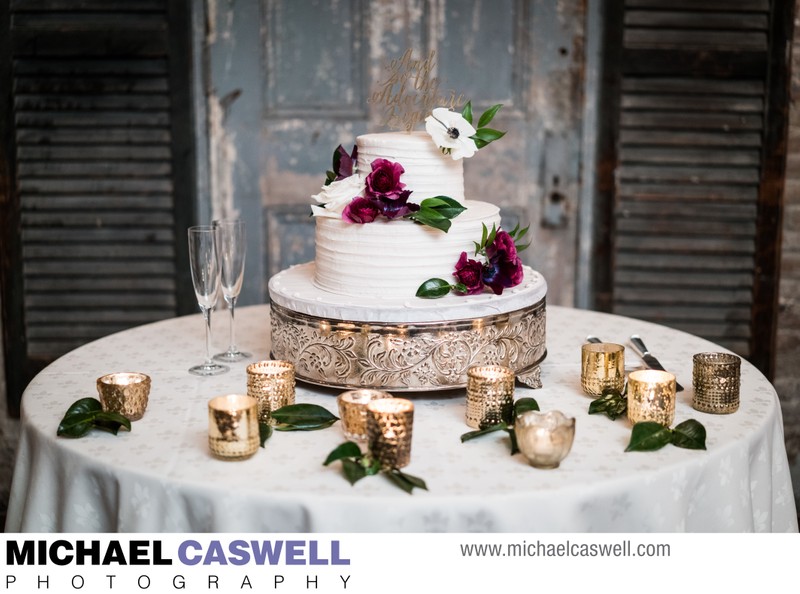 This Broussard's couple topped their cake with a Mardi Gras mask. This cake was created by Royal Cakery, which is among my favorite wedding cake bakeries in New Orleans, and the beautiful flowers were by Herbivore.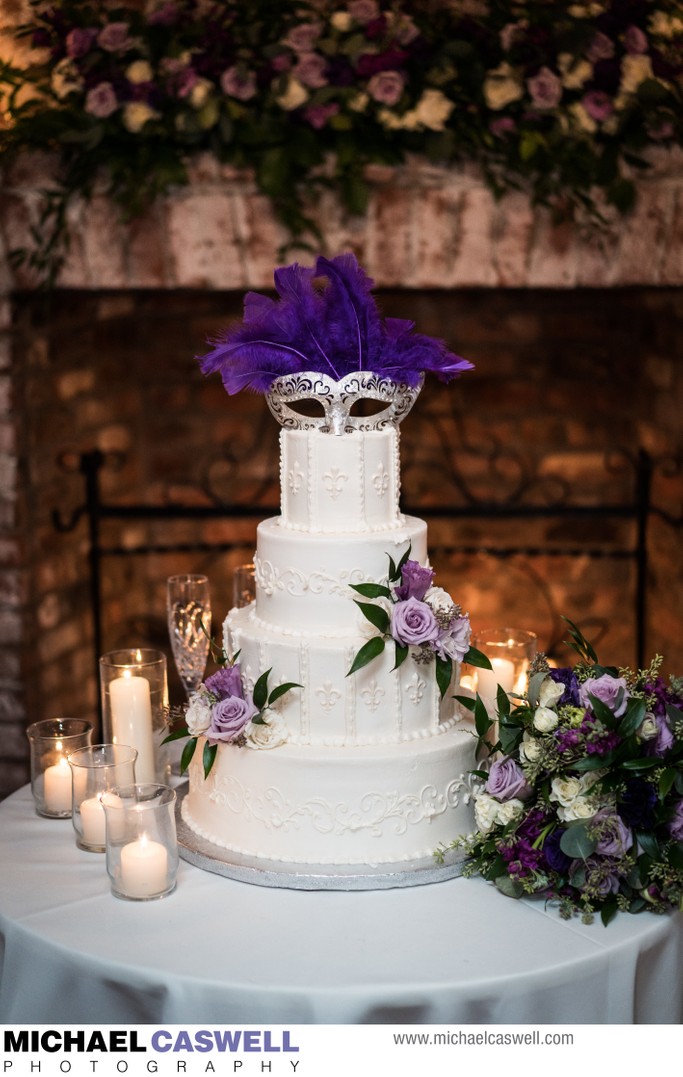 A monogram cake topper finishes off this simple but elegant La Louisiane cake at Southern Oaks, with the flowers by Beth's Florist in Metairie.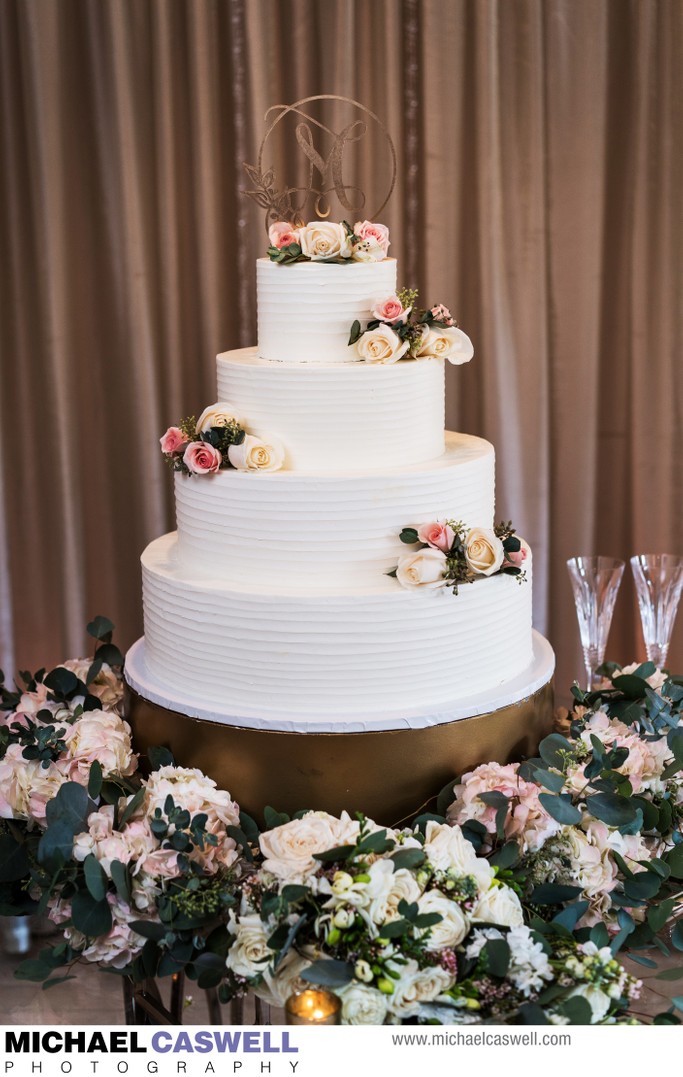 Cake toppers don't necessarily have to be too serious. This Swiss Confectionary cake at a Court of Two Sisters wedding comically features a couple of dinosaurs dressed in wedding attire.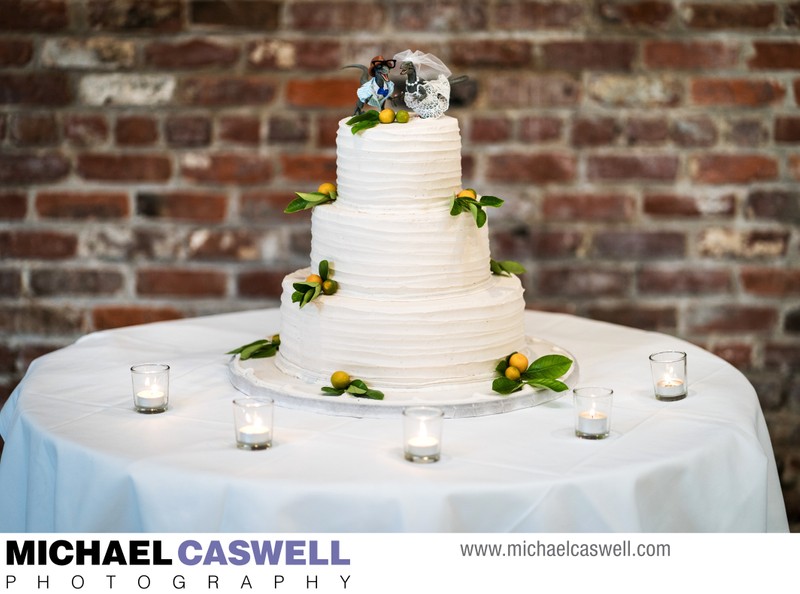 Vividly colored flowers by Nola Flora and beautiful daylight streaming in through the adjacent large windows highlight this Haydel's cake at Southern Oaks. This bakery is also famous for its delicious king cakes.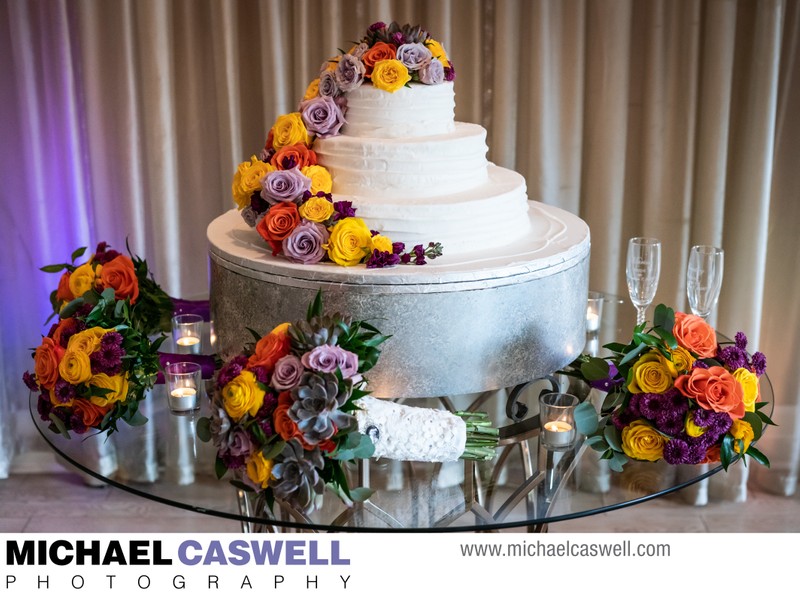 Zoe's Bakery created this classic cake for a wedding at The Greystone in Mandeville.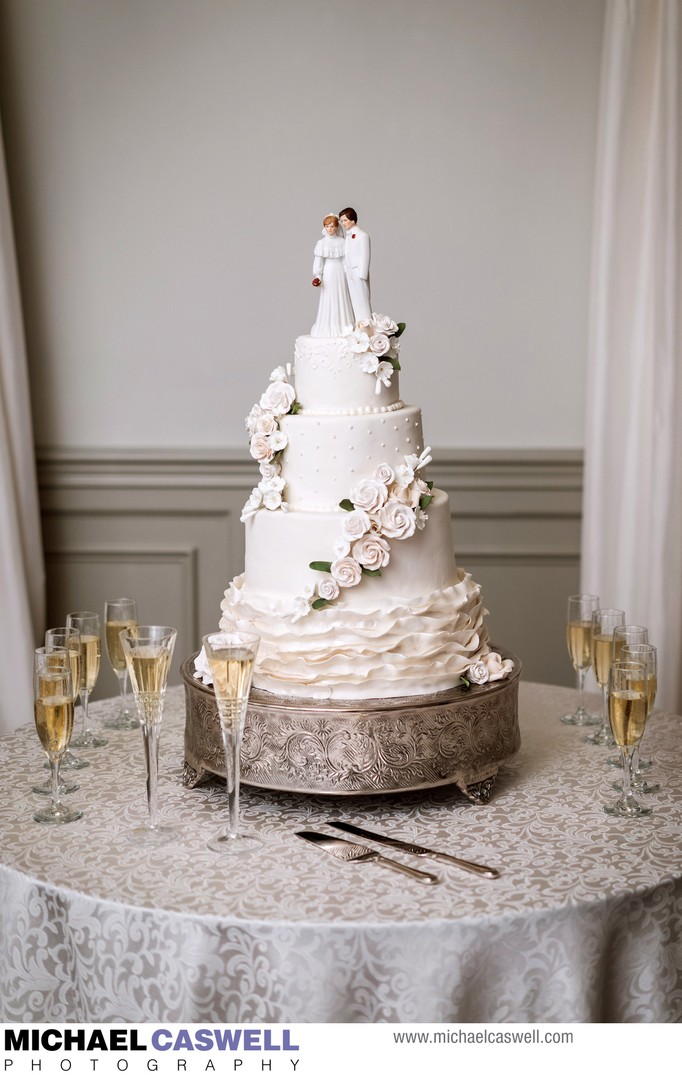 This Sugar Love wedding cake at Southern Oaks features a cake topper that depicts the bride and groom with their little boy, and is surrounded by flowers from Petals & Stems.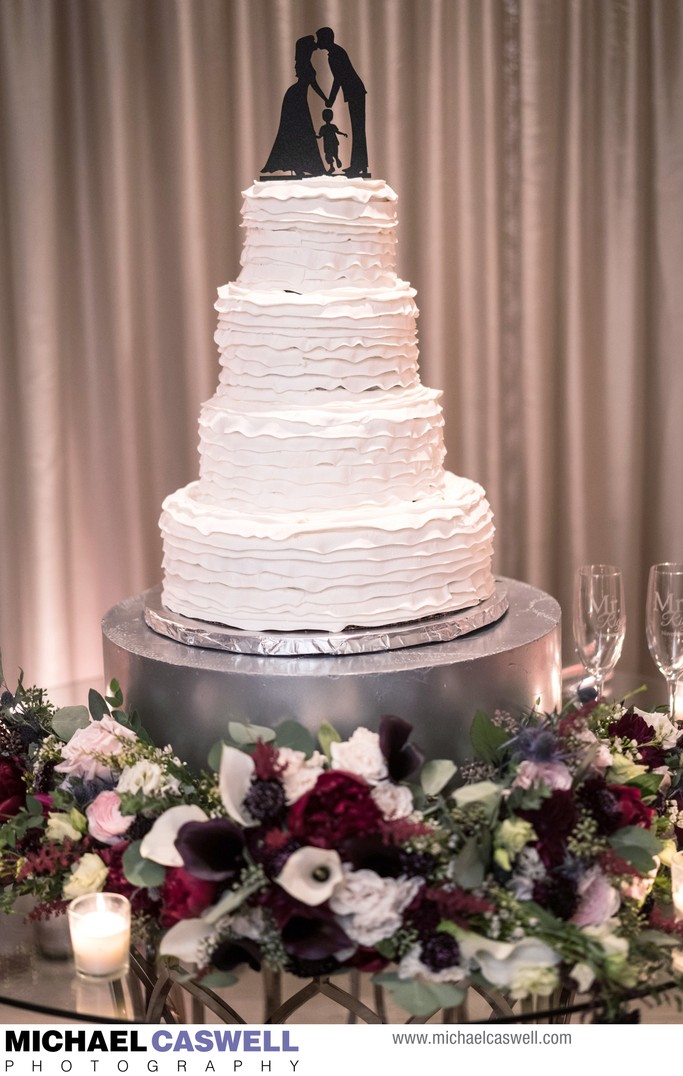 Marguerite's Bakery in Slidell created this elegant cake, accented with flowers by Distinctive Florist and dark teal ribbons, for this couple's wedding at Trinity Banquets & Receptions, also in Slidell.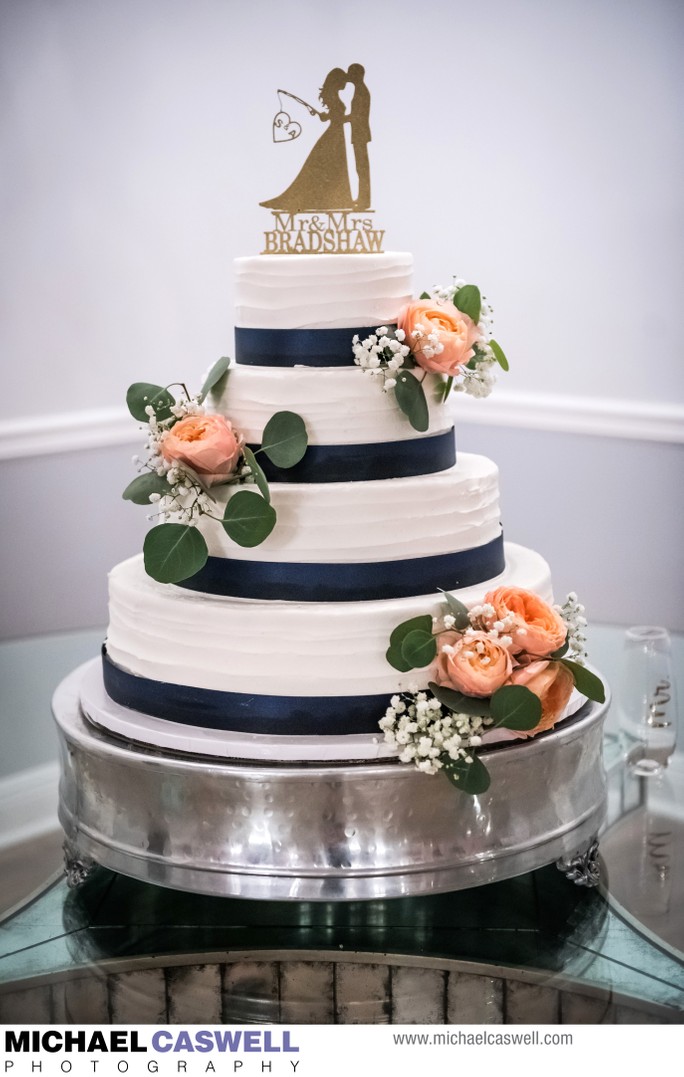 Colors
Does a wedding cake need to have white icing? Of course not! Here are a few cakes that feature different colors, either completely or as an accent to a mostly white cake. This amazing looking Frosted Fantasies by Nikky cake was for a wedding at Marché in New Orleans, and matched the wedding's color theme.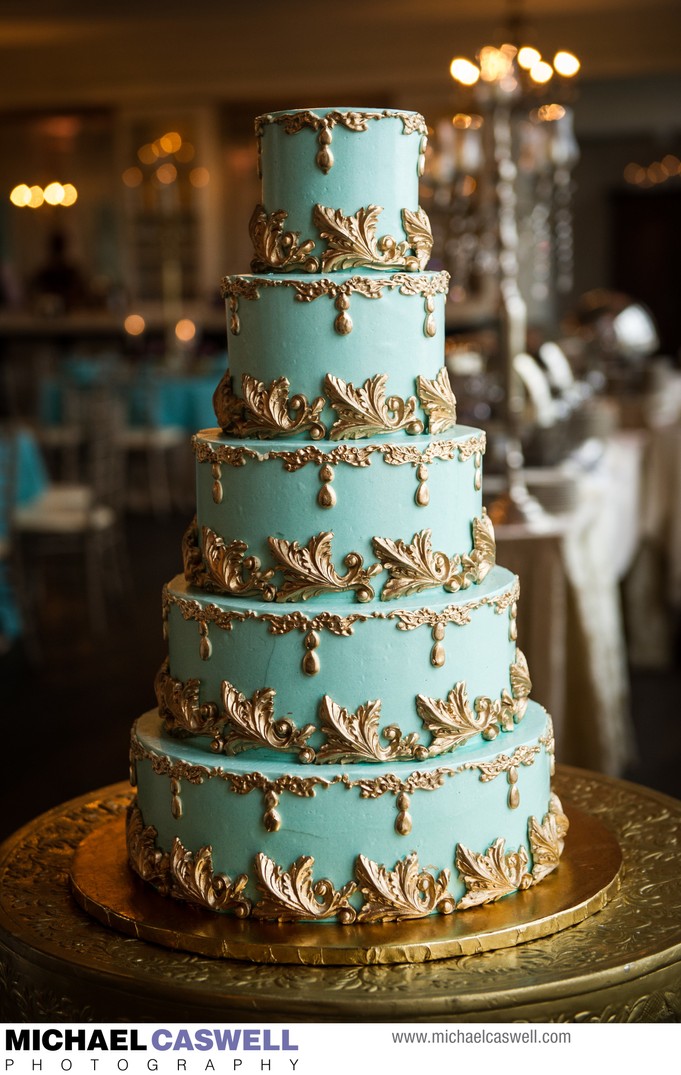 Who says you can't have a chocolate wedding cake! Haydel's created this cake for a wedding at The Cabildo, and Jardin D'eden Florist did the flowers.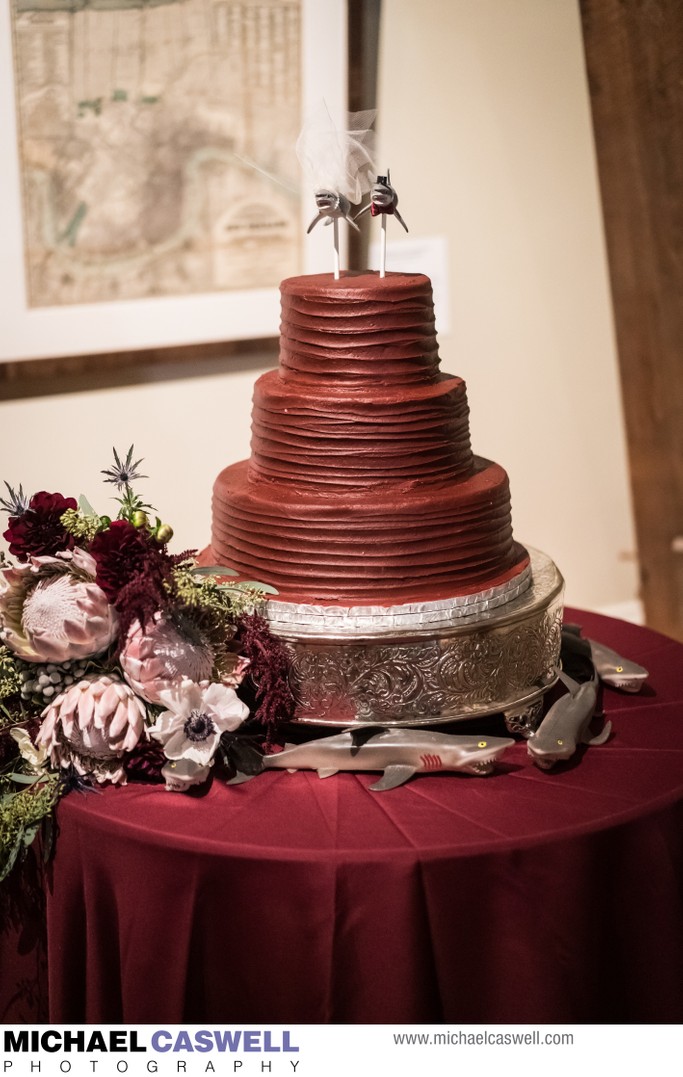 This Haydel's cake features the middle layer in a different color, further accented with flowers from Kim Starr Wise. The Fleur de Lis symbols around the top layer are a common sight on New Orleans wedding cakes!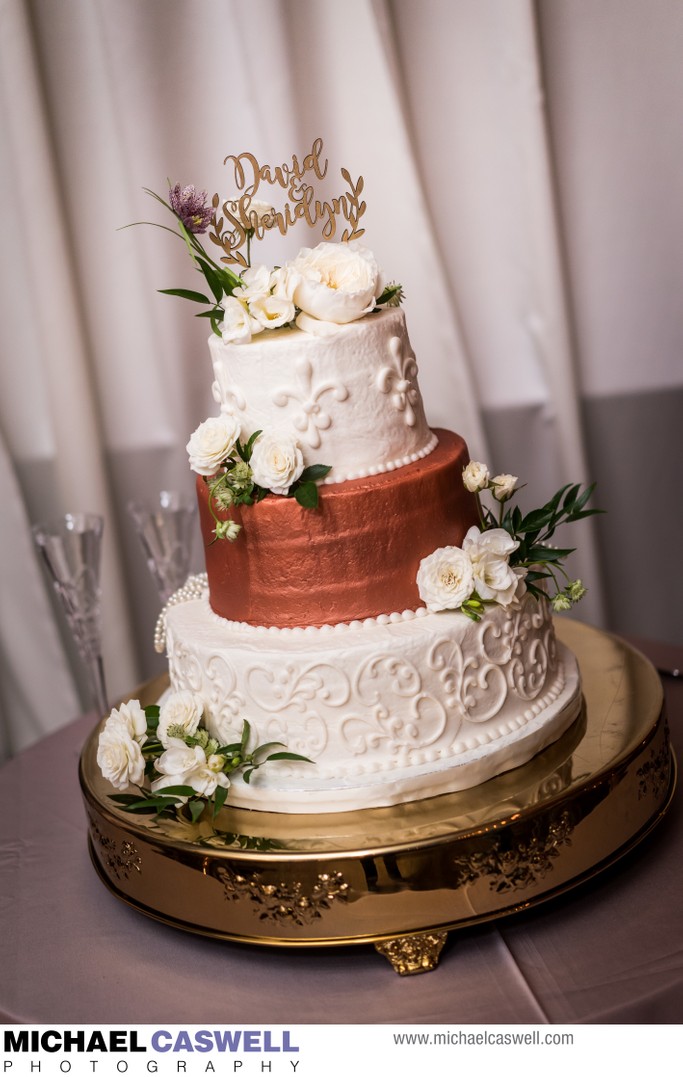 Gold leaf accents the side of this elegant cake at a wedding at Brennan's Restaurant in the French Quarter, crafted by the restaurant's pastry chef, with the flowers by Greaux.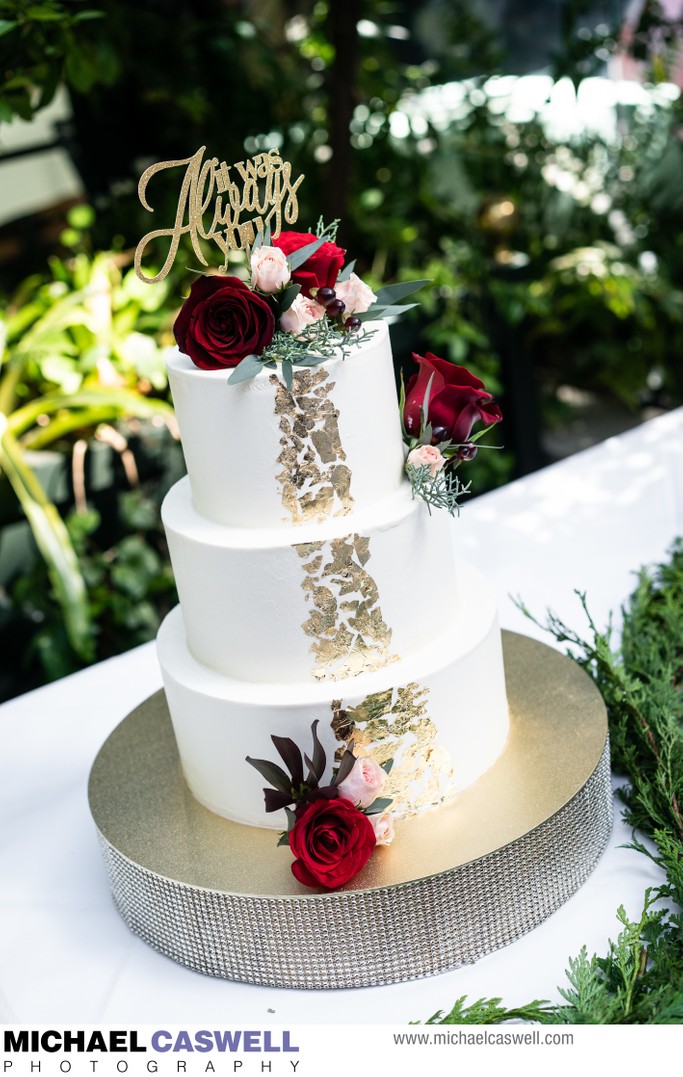 This beautiful cake's woodgrain color accents add an elegant touch, and the couple added a pair of stylized golden snitches from Harry Potter.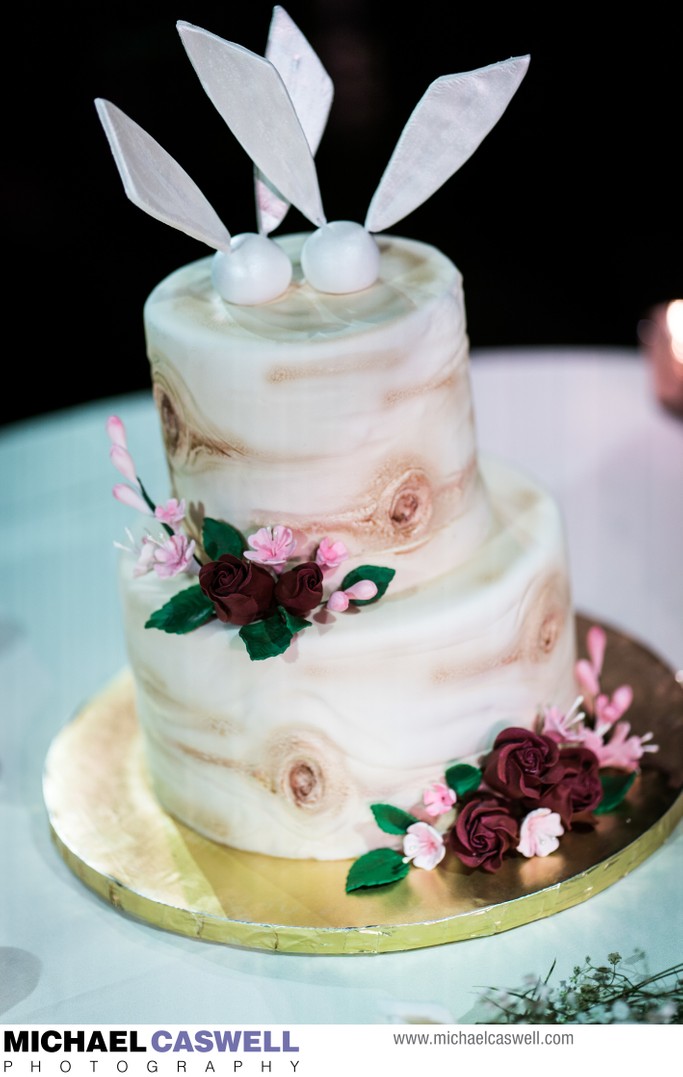 Brushed-on gold coloring accents this Frosted Fantasies by Nikki cake at Latrobe's, topped off with flowers from Arbor House.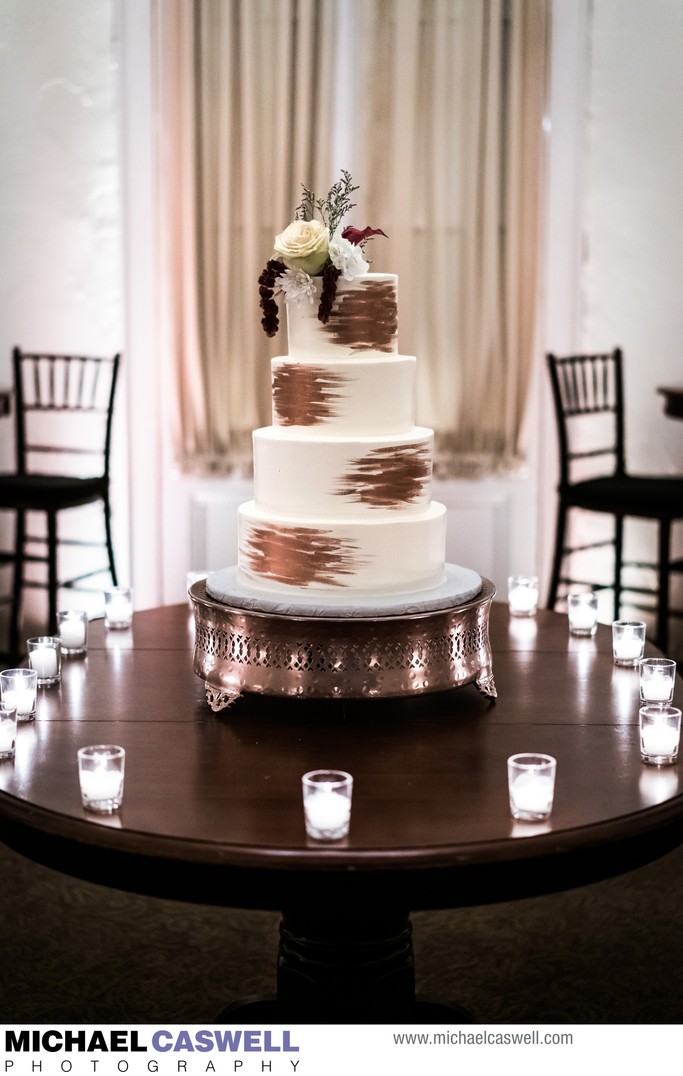 Petite Wedding Cakes
An intimate wedding doesn't usually need a full-size wedding cake, but there are plenty of options for small cakes as well. And there's just something about a cute little wedding cake... they are just adorable! This Gambino's naked cake was for a wedding at the Bourbon Orleans Hotel's St. Ann Cottage, and was decorated with flowers from Fat Cat.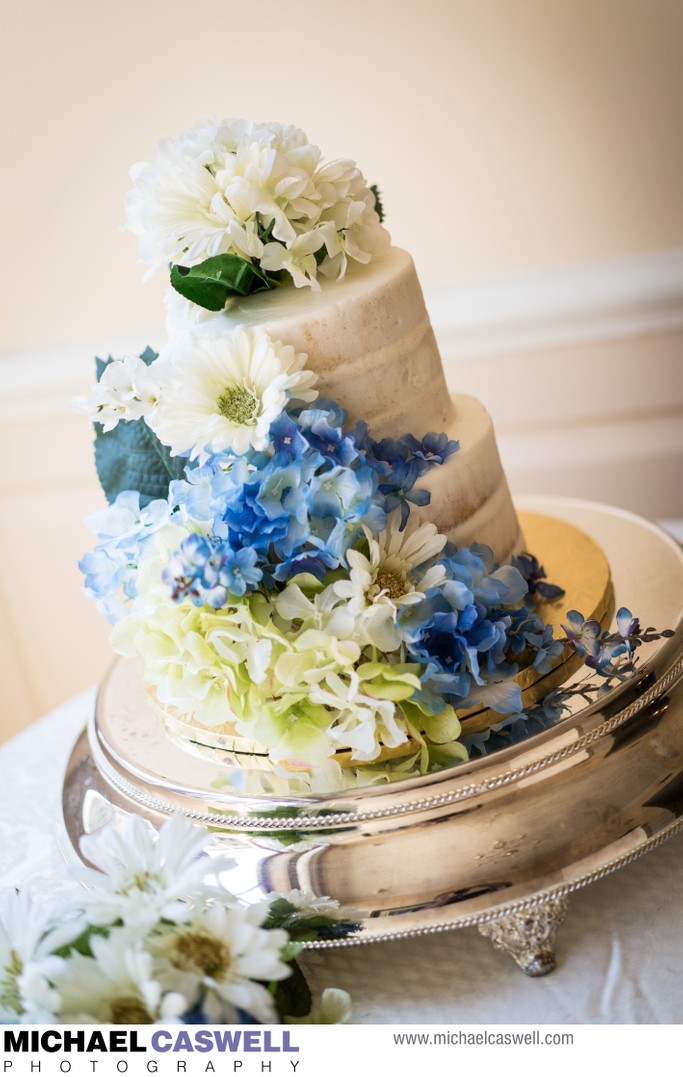 This gold-colored cake was for a small wedding taking place at Le Museé de f.p.c. in New Orleans.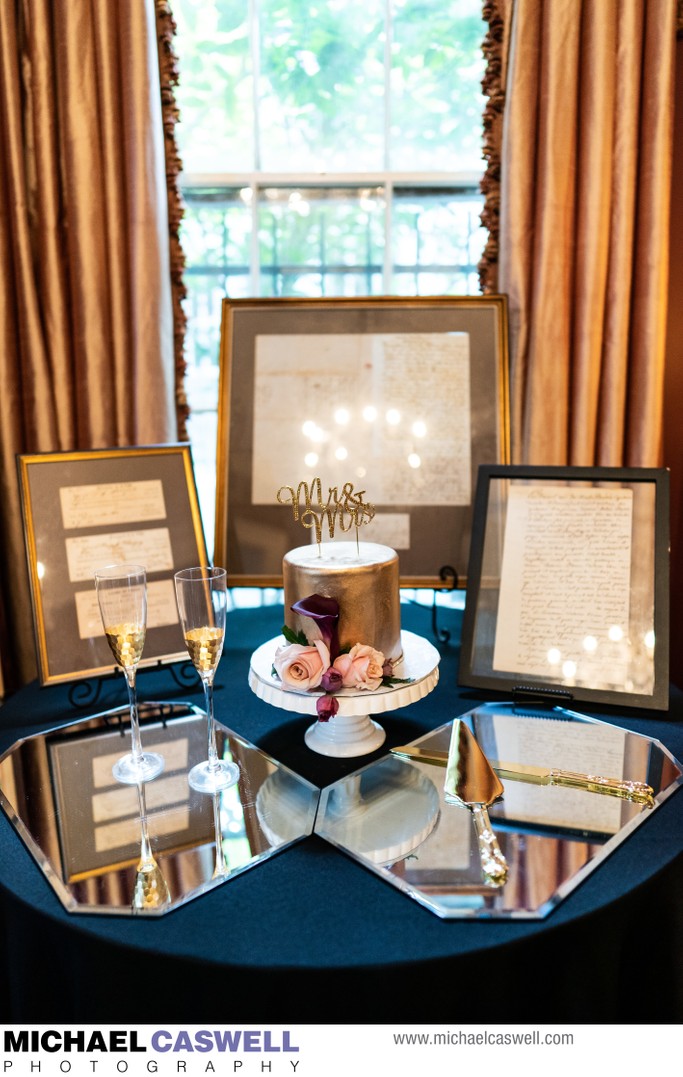 Marguerite's created this cute cake for a wedding at Palmettos on the Bayou in Slidell, accented with flowers from Distinctive Floral Designs.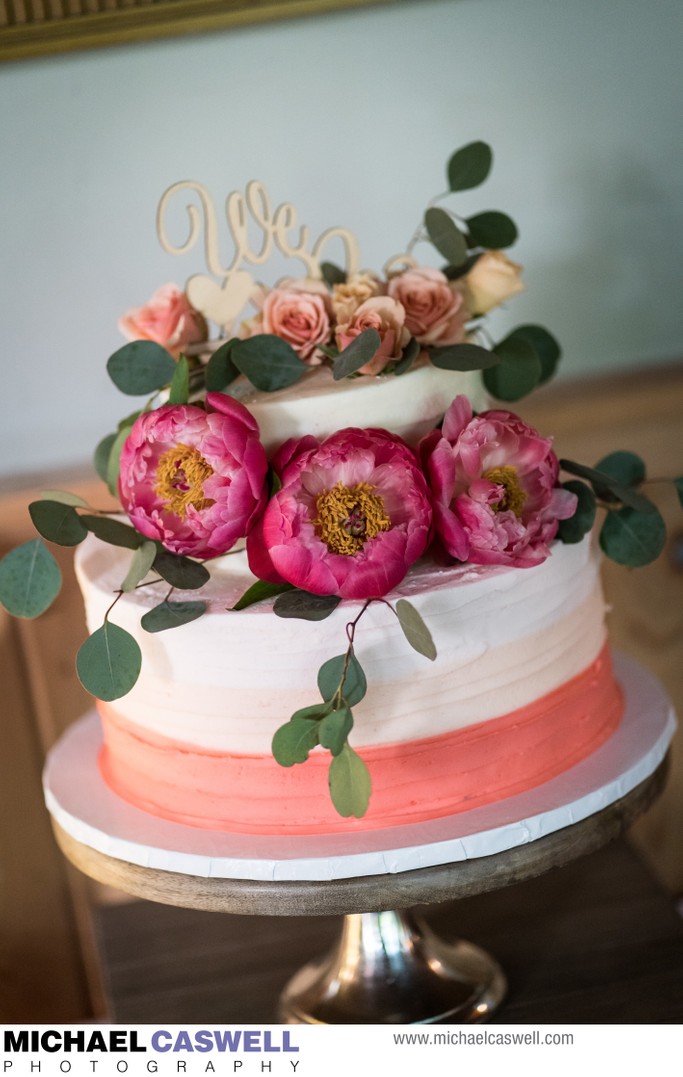 This naked cake, beautifully accented with flowers and succulents from Flora Savage, was created by Sucre for an intimate wedding celebration at The Roosevelt Hotel in New Orleans.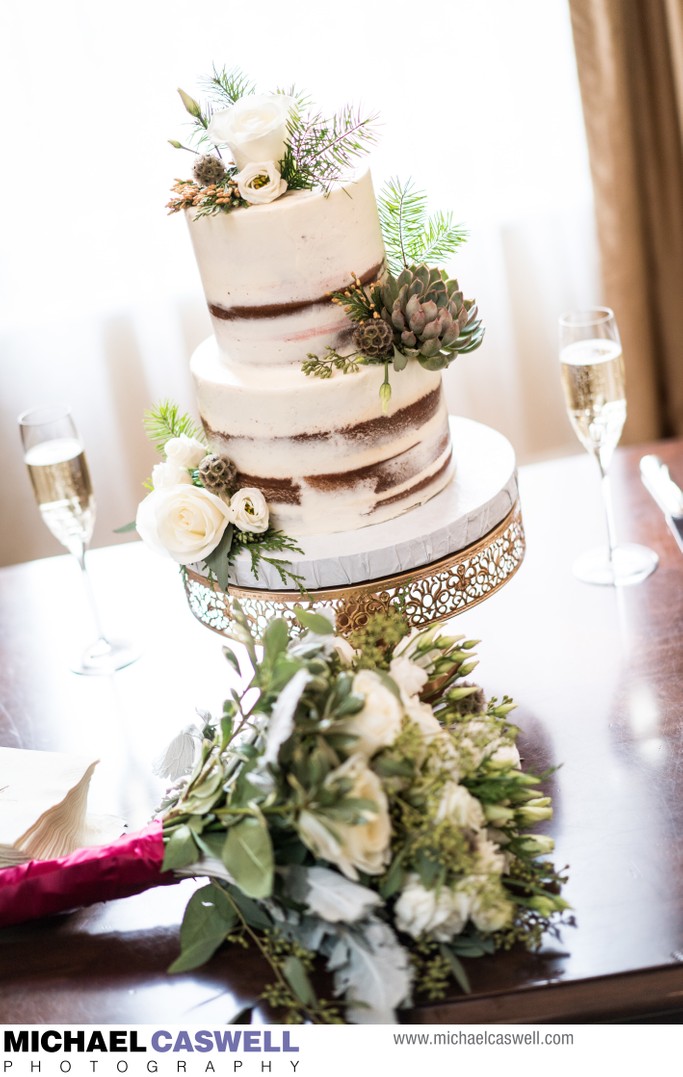 Wedding Cake Alternatives
Some couples want something completely different than a single wedding cake. For example, this lovely arrangement by B.Markova Cake at the Pharmacy Museum features two small cakes on pedestals for each of the brides, surrounded by an assortment of cupcakes of various flavors, and accented with flowers from Palate New Orleans. Cupcakes are a great idea, as they simplify serving of the cake (no cutting required!), and guests appreciate the variety of flavors offered.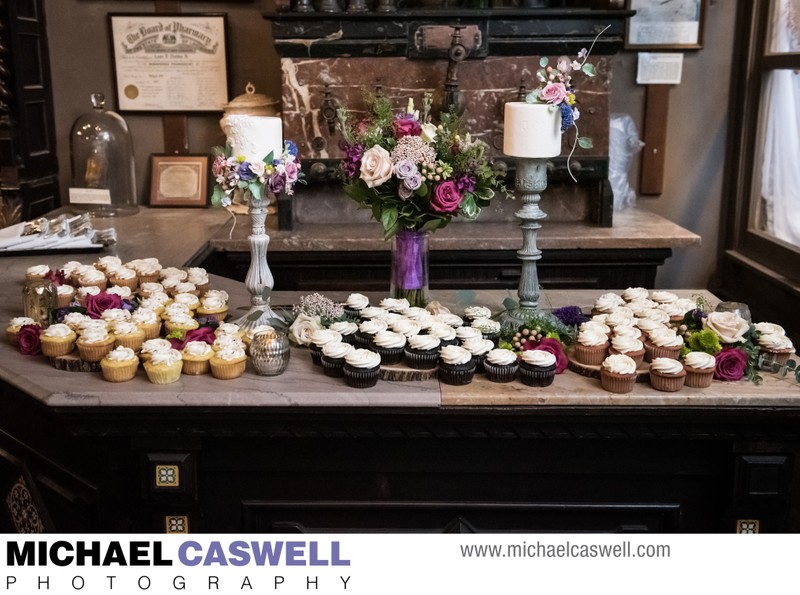 Wedding cakes can be fairly expensive, which is understandable given how much work can go into creating them. But every couple has their own set of budgetary priorities, and some my opt to save some money here. This couple at the Audubon Tea Room chose to have a simple cake with a cute topper, along with a three-tiered display of individual pecan pies.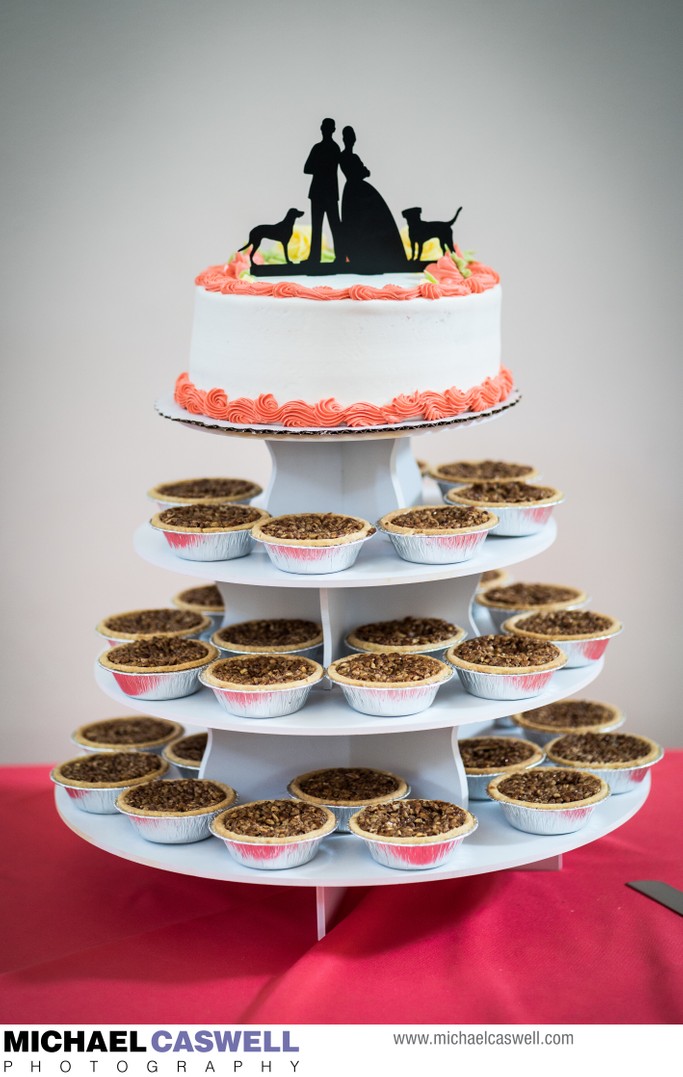 This couple went with an assortment of individual bundt cakes from Nothing but Bundt, surrounding one larger bundt cake as the centerpiece. Each grouping of these individual cakes had a small sign to indicate what the flavor was, which is a good idea since this is not always readily apparent just based on the color.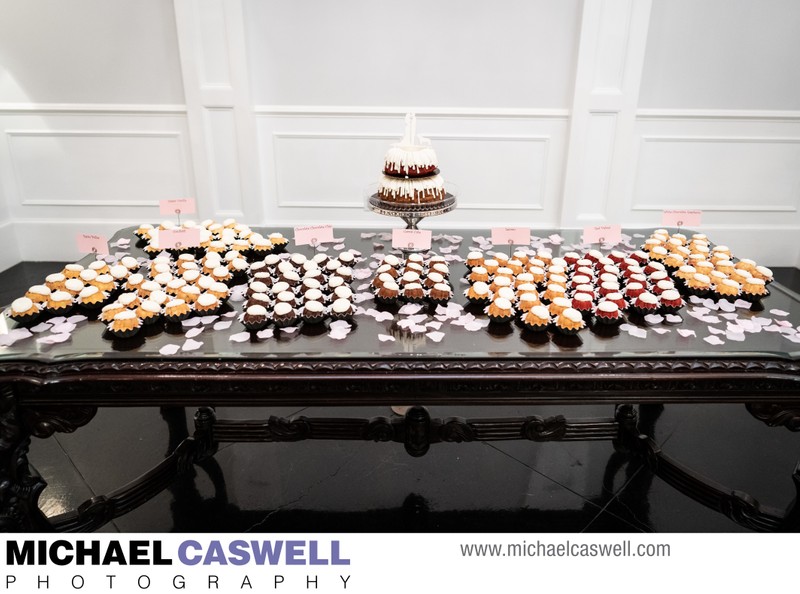 Themed Wedding Cakes
You shouldn't feel constrained by traditional norms that set expectations of what a wedding cake should look like. Sometimes couples will want a cake that more strongly reflects the theme of their wedding, such as this stylish Gambino's Bakery cake that coordinated perfectly with their art deco wedding at Messiana's at the Terminal (which is located in the Lakefront Airport Terminal Building).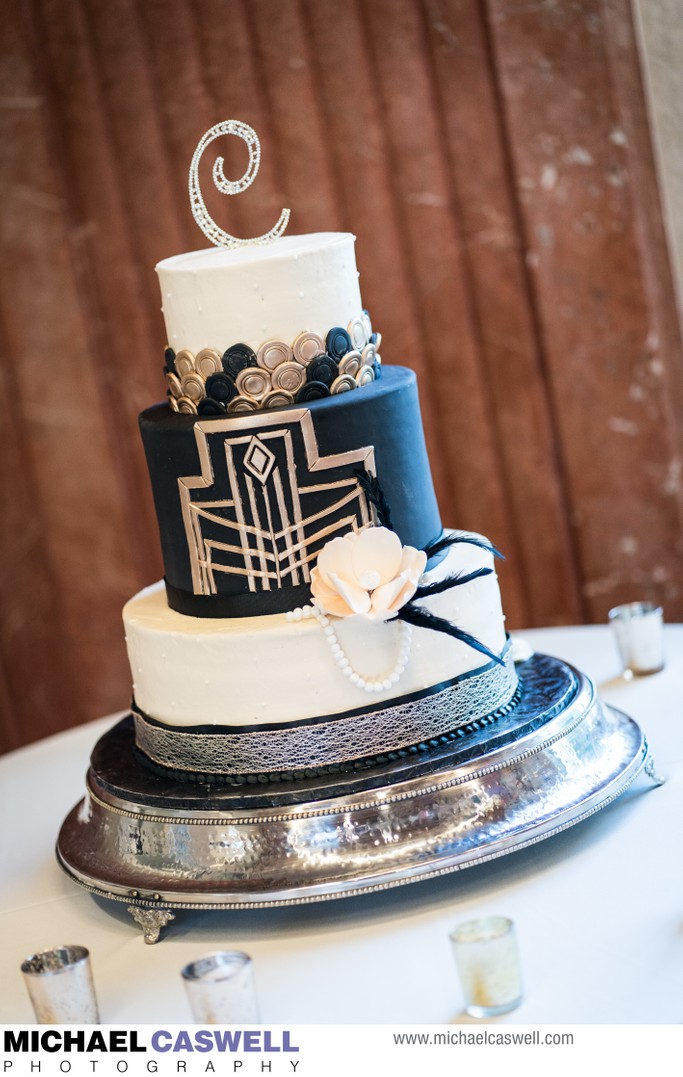 This Sucre cake is more along the lines of a groom's cake, with the couples' favorite sports teams featured, along with a cake topper that depicts them surrounded by bunnies (this bride loved rabbits!). They actually had several desserts on the cake table, but this was the main cake.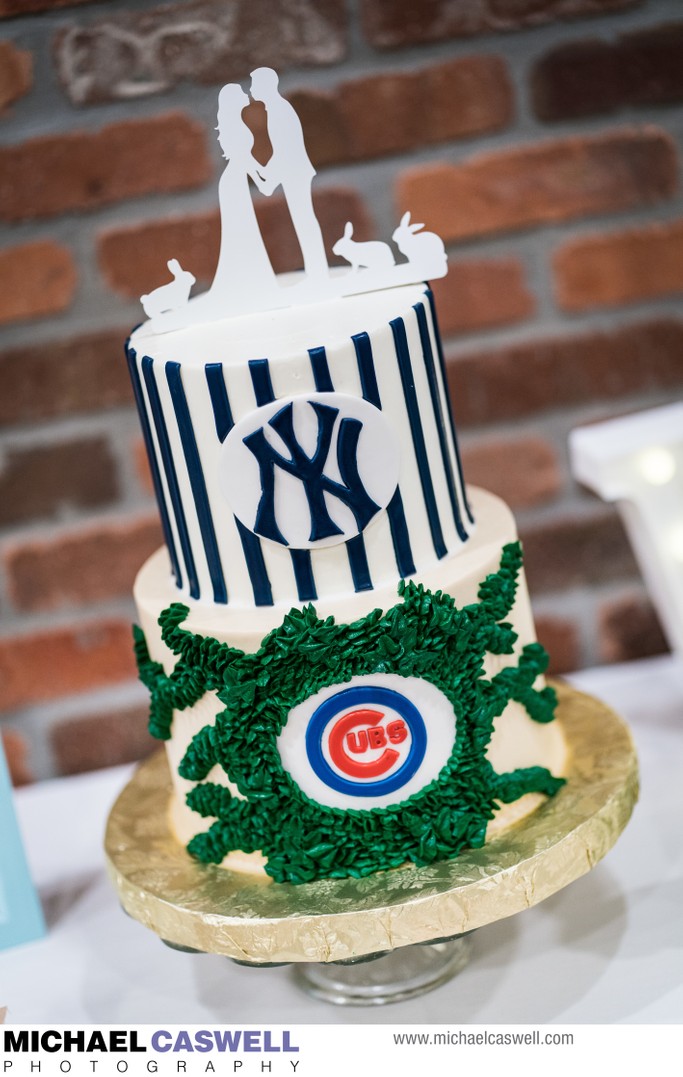 This Zoe's Bakery cake also was reflective of the couples' personalities and interests like a groom's cake often is, and featured a LEGO cake topper (that was put together by their adorable son).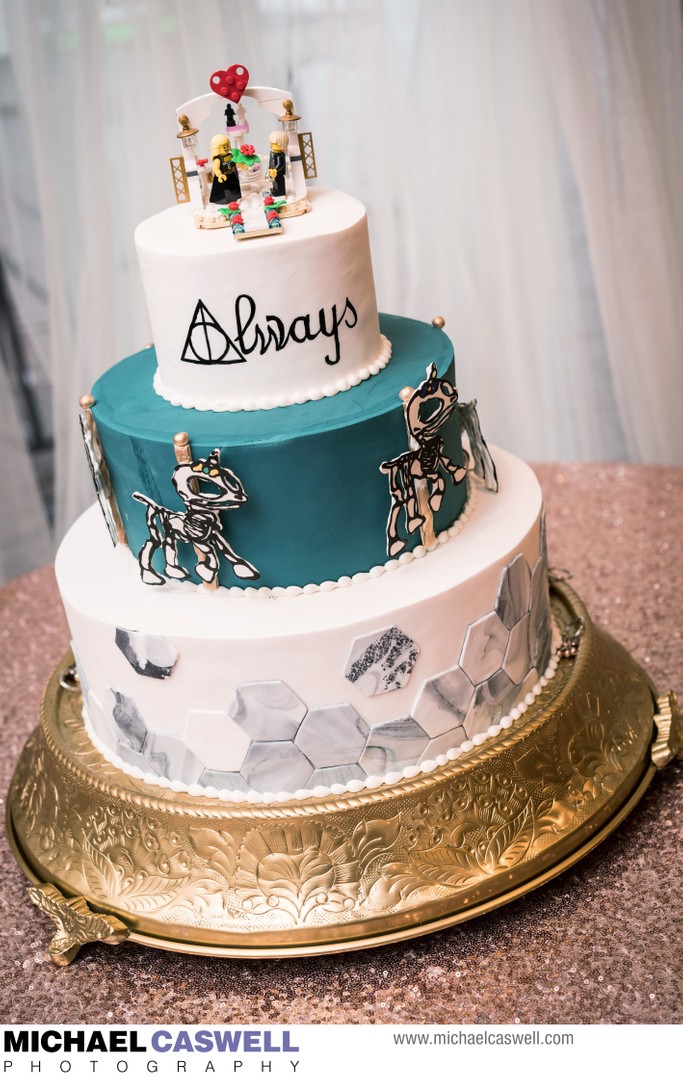 Because this Maison Dupuy couple's dogs were not able to be present at the wedding, they included miniature representations of them sitting around and poking out of their Haydel's wedding cake, decorated with flowers by Fat Cat.