Couple Portraits on the Wedding Day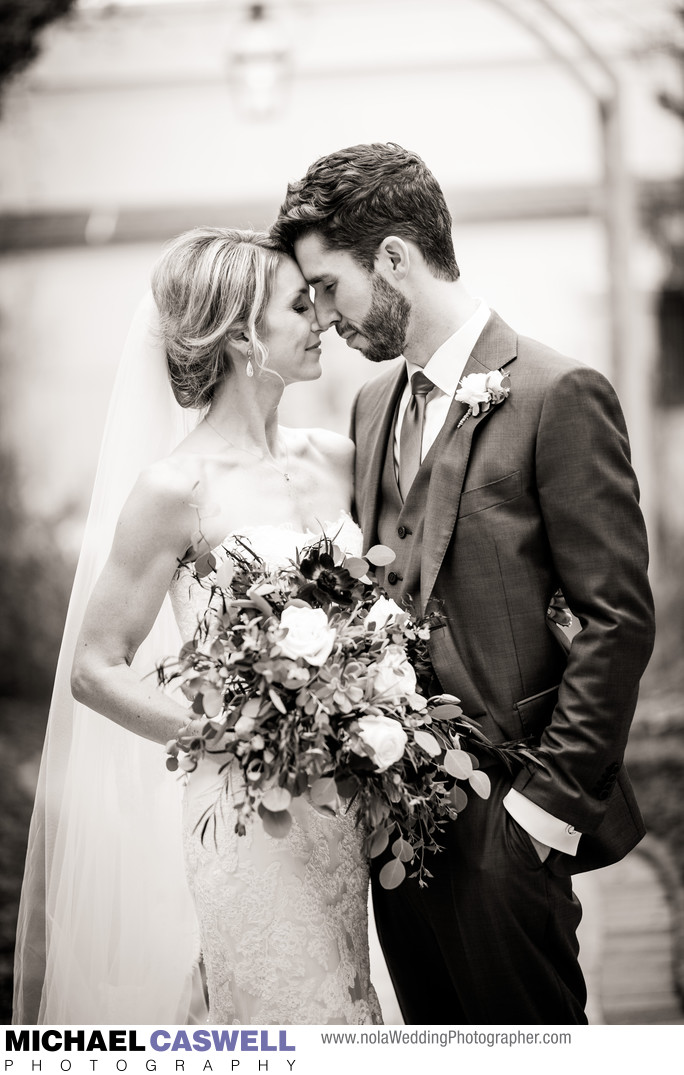 While the bulk of my wedding day coverage is usually candid, documentary style, I certainly love spending some time with my couples to do some fun and romantic, semi-posed portraits of the two of them if they desire. This is separate from the traditional formal group shots that are typically done either before or immediately after the ceremony.
Although doing these portraits can sometimes be an impromptu, spur of the moment decision, if you think you will want these shots you should definitely work some time into your wedding day schedule for them. The reality is that most modern couples don't want to be absent from their reception for an extended period of time, so while we can set aside ample time for portraits before the ceremony if you're doing a first look typically if it's during the reception that we will be doing these portraits, about 15 minutes is probably the most you will want to utilize for this session. But like almost all aspects of your wedding, whether you want to do these shots at all, and if so, the amount of time you wish to dedicate for them, is entirely up to you.
When and Where?
As the article on the timing of the wedding ceremony discusses, don't forget to factor the sunset time into your plans if you want daylight shots. While weddings that take place in late Spring through early Autumn might still have some daylight left to work with early in the evening, in most cases it will be dark outside if we do these portraits during the reception.
In some cases, such as with the beautiful lighting and decorative elements on the grounds of Southern Oaks Plantation, portraits after dark may very well be your preference, as this venue photographs exceptionally well at night! Same with the rooftop observation deck of the Omni Royal Orleans, with the city skyline in the background. The French Quarter can go either way, with daylight generally resulting in better quality portraits, but with night giving a completely different aesthetic, perhaps utilizing the downlighting of buildings to give a dramatic, moody look, or shooting on Bourbon Street with the colorful signage and chaotic crowds behind you. If we will be shooting in a park or other location that does not have much lighting in the background, it's far better to do these shots when there's still some ambient light to work with.
So, what if it will definitely be dark by the time your reception is underway, but you really want the look of natural light portraits? The only real choice in that instance is to consider having a first look, so that we can capture these photographs before the ceremony. This has the added bonus of providing a more relaxed setting and more time for these shots, since you won't feel as pressured as you would if you were missing some of the reception.
The locations chosen for these portraits depends on where your wedding is taking place. Often for French Quarter venues, we'll simply venture out in the immediate vicinity, as there are countless great spots in the Vieux Carré for portraits. Some venues have their own signature spaces that can be utilized for these photographs. A stairway in Latrobe's is a favorite of mine, and for Omni Royal Orleans weddings, a trip up to the observation deck for a picture of the couple with the New Orleans skyline in the background is practically mandatory!
At Palmetto's on the Bayou in Slidell, the dock overlooking scenic Bayou Bonfouca is a perfect spot. Some beachfront venues will have a pier extending out onto the water that we can shoot on. And often an older New Orleans wedding venue will have some interesting architectural elements that can be utilized, such as these lovely old doors at Hotel Peter & Paul. The venue might have a courtyard or landscaped pathway that works well for portraits.
Just the Two of You, or Include the Bridal Party?
Most of the time, it's just the couple for this portrait session, but some fabulous shots can be captured of the whole bridal party during this time as well. If these kinds of shots are on your photo wishlist, what usually works best is to split the time, with just the two of you at first, and the rest of the group joining up with us about halfway through. Or vice versa... start with the whole group first, and have them head back to the venue when we're ready for the couple shots.
Of course, if you prefer to keep the group together during this whole time, alternating between couple shots and full wedding party shots as we move from location to location, that's fine as well! Just be sure to allow a little more time for this, since it does usually take a little longer to move around with a bigger group.
"Day After Session" – Post-Wedding Portraits
In some cases, adverse weather or time constraints on the wedding day can get in the way of capturing the kinds of portrait photographs that you had envisioned. If that is the case, a post-wedding portrait session (also sometimes referred to as a "day after" session, even if its not necessarily literally the next day) can be an ideal solution.
This kind of session gives us plenty of time to capture a wide variety of portraits of the two of you without you feeling the pressure and anxiety of missing a portion of the reception, and also allows us to schedule these portraits to take place at the best time of day for ideal light, something that's not always possible on the day of the wedding.