Intimate Weddings and Elopements in New Orleans
Not everyone wants a large wedding, and as wonderful and exciting as the more extravagant weddings can be to shoot, I genuinely love photographing intimate weddings and elopements in New Orleans, as well, as these smaller nuptials often give me a chance to work directly with the bride and groom on their portraits in a more relaxed manner than a bigger wedding typically allows.
I've photographed many small weddings and elopements over the years. These intimate ceremonies, which became known as micro-weddings, became increasingly popular in 2020 during the COVID-19 pandemic for couples who were seeking an alternative to completely postponing or canceling their planned nuptial celebration, but even with the pandemic no longer having a significant effect on events, some couples are still opting for smaller weddings.
Eloping
While the traditional definition of the word "elope" alludes to a couple privately getting married in a secretive manner without family approval or knowledge, with the term perhaps having a somewhat negative connotation, the meaning in common usage has changed considerably in recent times. While perhaps the traditional definition still does apply in some couples' situations, usually these days it's simply a way of saying a very small destination wedding with no (or very few) guests in attendance.
Some of my couples eloping in New Orleans choose to get married just by themselves, but it's also not uncommon for a small number of guests (maybe just one friend each, or perhaps a dozen or so people) to be there to witness their vows. And in direct contradiction with the traditional meaning (which implied the parents' disapproval of the relationship), it's not uncommon for parents to be in attendance.
If you are eloping in New Orleans and plan to just have a brief ceremony in the French Quarter, a park, or the courthouse, photographing this ceremony along with an elopement portrait session is a wonderful way to document the beginning of your new life together as a married couple.
Elopements are typically single location shoots, where we'll do our portraits in the same general area as the ceremony, and an hour and a half of photography time is usually sufficient (about a half hour for the ceremony itself, and an hour for portraits). But occasionally multiple locations are needed, such as when the ceremony takes place at the courthouse or in a park, but then we also want to do some portraits in the French Quarter. In those cases, generally a minimum of two hours of coverage is needed to accommodate this, with sometimes as much as three or four hours required if several locations want to be used.
Intimate Weddings
Given the evolving meaning of the word elope in common usage, the line between an elopement and an intimate wedding is pretty fuzzy. From my perspective, I consider an elopement to consist of just a small ceremony, usually on a weekday (and, not in keeping with the traditional definition, sometimes with a very small number of guests in attendance), along with some portraits of the couple, with everything usually all at one location, and no official reception (perhaps just the group going out to dinner together afterward, though with this portion typically not needing to be photographed). The photographic coverage typically is one and a half to two hours.
An intimate wedding, on the other hand, will usually involve two to three hours of coverage (though I've had some very small weddings with six to seven hours of coverage!) with as many as a couple dozen guests, and might be on a weekend. The location will tend to be a bit more formal, with perhaps a small courtyard or other similar venue being reserved for the ceremony. And while they won't have a full-blown reception as a larger wedding would have, there will usually be a lunch or dinner for the couple and their guests served in a private dining room at a restaurant or at the ceremony location.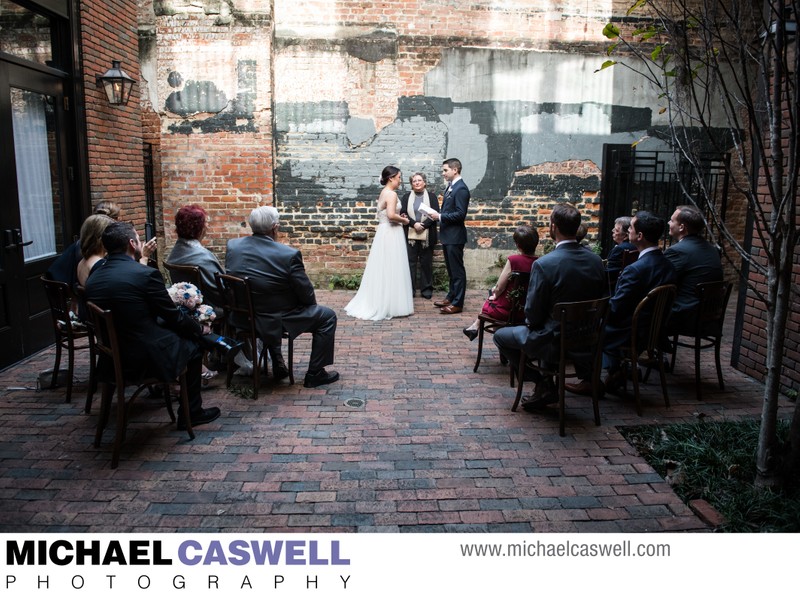 Destination couples who decide to have an intimate wedding with just a very small number of guests (or just the two of them!) often choose this romantic city, as there are a number of French Quarter and Garden District venues, both indoor and outdoor, ideal for this type of gathering, along with several great park areas to choose from.
Split Location Weddings
It's not uncommon for a couple to have an elopement or intimate wedding here in New Orleans, and then celebrate with a full reception a few weeks later with a larger number of guests back home. Or, in some cases, the opposite, with a small ceremony elsewhere (either near home, or some other destination), and the big reception taking place here.
For example, perhaps the couple chose to get married in a far-off, exotic destination that wasn't practical for their whole group of guests to attend. They could then have a bigger celebration here in New Orleans, with all their desired family and friends in attendance. Often, these events will include a ceremony, even if the couple had already exchanged vows.
I've even shot quite a few full weddings where the couple technically was already married, having had a small civil ceremony months earlier. In some cases, very few of the guests knew about this prior ceremony, so as far as they knew, the event they were attending was the wedding!