Southern Oaks New Orleans Wedding Ceremony
Southern Oaks is a New Orleans wedding venue that is always a pleasure to work at, and I've been photographing events at this popular and highly-regarded venue on a regular basis since 2007. Over the years, I've captured tens of thousands of photos of nuptial celebrations at this location, such as this image of an evening ceremony in front of the graceful house. In this photograph, the elegant home is brightly illuminated and the uplighting on the massive oak tree dramatically highlights its natural beauty. The bride and groom were of Native American descent, so they incorporated some traditional cultural elements such as the blanket ceremony seen in this image.
A Photographer With Extensive Experience at Southern Oaks
My first wedding here was back in 2007 on a clear and crisp January afternoon for a family that I subsequently also photographed their other daughter's wedding the following year. Now, over 16 years later and with more than 50 events at this location under my belt, I'm exceedingly experienced with how events are run at Southern Oaks, and I am intimately familiar with how to capture beautiful photographs of weddings at this top-notch New Orleans wedding venue.
Because I've worked at this location so many times, in every season, and for early afternoon, late afternoon, and nighttime ceremonies, I have experience here in just about any weather or lighting conditions. I even shot a wedding here once in dense fog!
Here's a photograph from a similar angle and position that shows what the venue looks like during the daytime hours.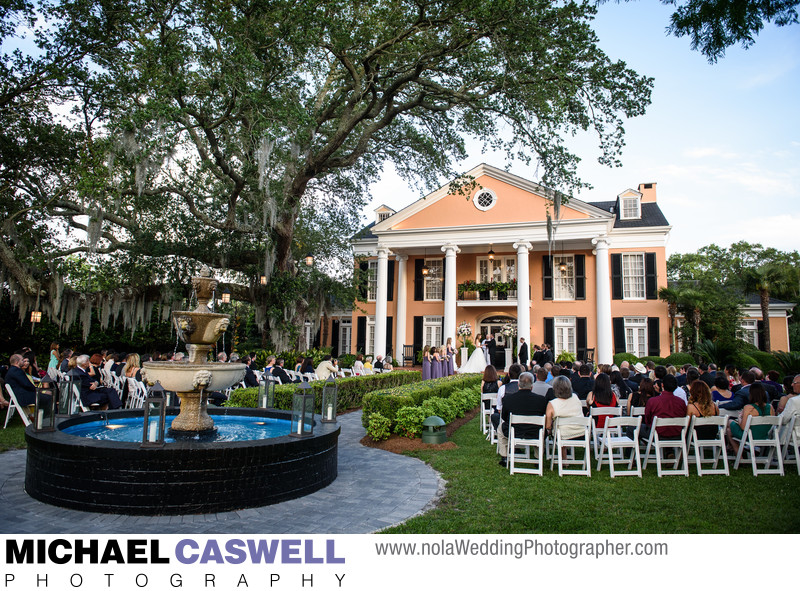 One of the Best Wedding Venues in New Orleans
Southern Oaks is universally praised by couples and guests. Because this venue hosts so many events, and because events (almost exclusively weddings) are all they do, they have it down to an exact science. Constructed and used originally as a private residence in 1965, Bobby and Sue Asaro purchased the property in 1987 after several other past owners had made attempts to use the property for a variety of failed business ventures over the years, and have found great success after putting a tremendous amount of work into turning the property into a first-class venue for weddings and other events in New Orleans. Members of the Asaro family are almost always present to greet the couple and the families personally, and the expert staff of hosts and hostesses are dedicated to ensuring couples and their guests have a stress-free and unforgettable experience.
Plus it's beautiful, both in the daytime and at night, with very little (or no) decorating of the outside or inside needed, and new decorative features and improvements are added on a regular basis.
There are also numerous enhancements available for your ceremony and reception, including some that you simply can't get anywhere else. Want to make your entrance to the ceremony in a horse-drawn carriage or classic Rolls-Royce? No problem. How about a thrilling fireworks show at the conclusion of the ceremony? You got it. Want to treat your guests to some uniquely New Orleans food and desserts during the reception? The venue can arrange for Drago's Char-Broiled Oysters, Cafe Du Monde (beignets & coffee), Lucky Dogs, or even a snowball stand.
It's no wonder that this is such a wildly popular place to get married, both for locals and for destination couples!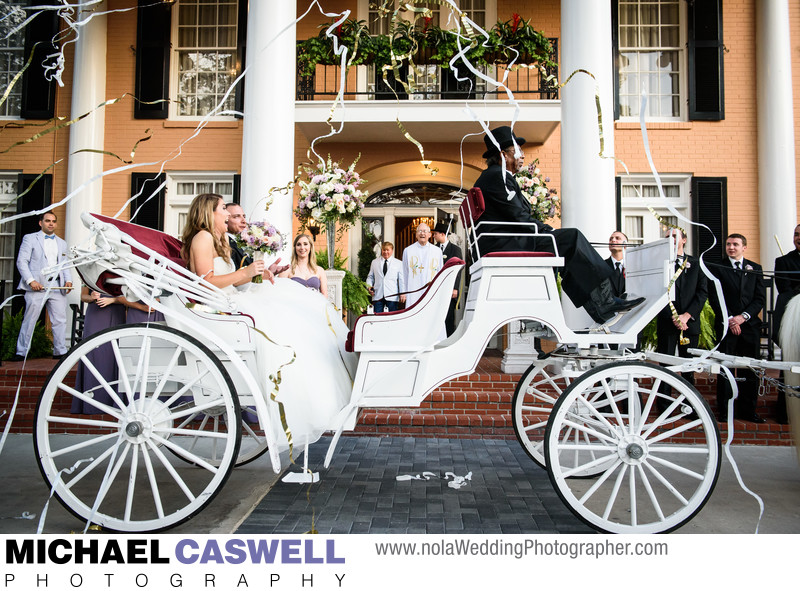 Expert Staff
Ask any New Orleans wedding photographer or videographer what their favorite venue to work at is, and there's a very good chance they will say Southern Oaks. Why? First of all, because it's a very easy location to shoot at, not only because it photographs well, but also because events go so smoothly there. This allows us to concentrate on doing our job of capturing beautiful imagery of the event and not be distracted with trying to keep the reception on track.
Additionally, the staff always make sure photographers and videographers get a good meal during the time when the newly married couple and their guests are eating which, naturally, is the perfect time for us to eat as well, since there's usually not as much reception action going on during this period. The lead event coordinator will also take this time to brief us on anything we need to know about the rest of the event, such as timing and specifics for the cake cutting, bouquet/garter tosses, speeches, and send-off plans if applicable.
Outdoor Ceremony with an Indoor Backup
Another benefit of this venue is how they handle inclement weather. With the 50+ Southern Oaks weddings I've photographed over the years, though there were some close calls here and there, only twice did a ceremony actually have to be moved inside due to rain. The reason for this outstanding track record has been made obvious on a number of occasions, as while many venues will have to make the decision to move inside an hour or two before the ceremony start time to give them time to set up the alternate space, Southern Oaks is able to wait until the last possible moment if the radar or forecast hints that the rain may clear in time. They can do this because their large and efficient staff can be called upon to quickly swoop in and set up the ballroom for an indoor ceremony in mere minutes (I'm convinced they run military-like practice drills, with a stopwatch!). Likewise, if a brief rain shower does happen to move through before the ceremony begins, the staff can very quickly dry off the chairs for your guests.
As a result, your outdoor wedding ceremony is given the greatest chance of proceeding as planned, as there are few things as frustrating as seeing a ceremony get moved indoors only to have the weather clear up in time for it to have remained outside as originally planned if the decision could have been deferred until just a little later.
That said, it should be noted that even if the ceremony must be moved inside, the spacious and beautiful ballroom is well suited for this, with large windows along the back wall overlooking the lushly landscaped pool and garden area, and horse stables where equine brothers Magic and Majestic live.
Alternate Outdoor Ceremony Location
Another option for your ceremony (if the expected number of guests attending allows) is on the lawn under the elegant, moss-covered oak tree that graces the front of the venue. While the traditional location of the front steps of the stately home is beautiful, this alternate spot has a bit more of an intimate, park-like feel to it that some couples with smaller guest counts may prefer.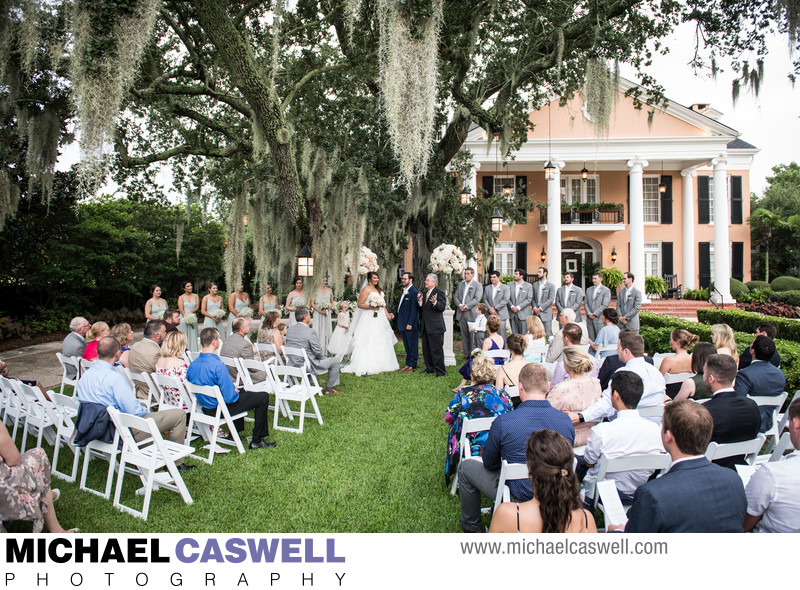 Location: 7816 Hayne Blvd, New Orleans, LA 70126.