Second Line Parade to New Orleans Wedding Reception
This particular shot was on the couple's "wish list". Ordinarily, given the dynamic and chaotic nature of second line parades through the French Quarter, specifically requested shots can be a tall order to fulfill. But in this case, they simply gave me a general request that I try to get a picture of them as they passed by a certain building along the planned route down Royal Street. They described it as a corner building, constructed of red bricks, with many hanging plants adorning the ornate wraparound balconies.
Of course, I knew exactly what building they were referring to, as it's probably one of the most photographed spots in the French Quarter. While the name (the Miltenberger House) is not as recognizable as some other landmarks in New Orleans, it appears in B-roll footage of practically any TV show filmed in the city.
The now iconic building was constructed in 1838 by the widow of Dr. Christian Miltenberger, an immigrant from St. Dominigue. Because of his expertise in treating yellow fever, he was appointed by the mayor to supervise indigent health care, and also served as surgeon during the Battle of New Orleans. Though some sources incorrectly identify this building as having been "a gift to his wife", Dr. Miltenberger actually died in 1829, nine years before the building was commissioned by his widow, Marie Aimee Miltenberger. Consisting of three residences (one for each of her children), it follows the common and familiar practice in the French Quarter of commercial space downstairs at street level, and residences upstairs.
A Fabulously Unique Wedding
I don't think you can get any more uniquely New Orleans than this New York couple's amazing wedding, with a ceremony in the iconic St. Louis Cathedral and a reception at famous Court of Two Sisters in the French Quarter!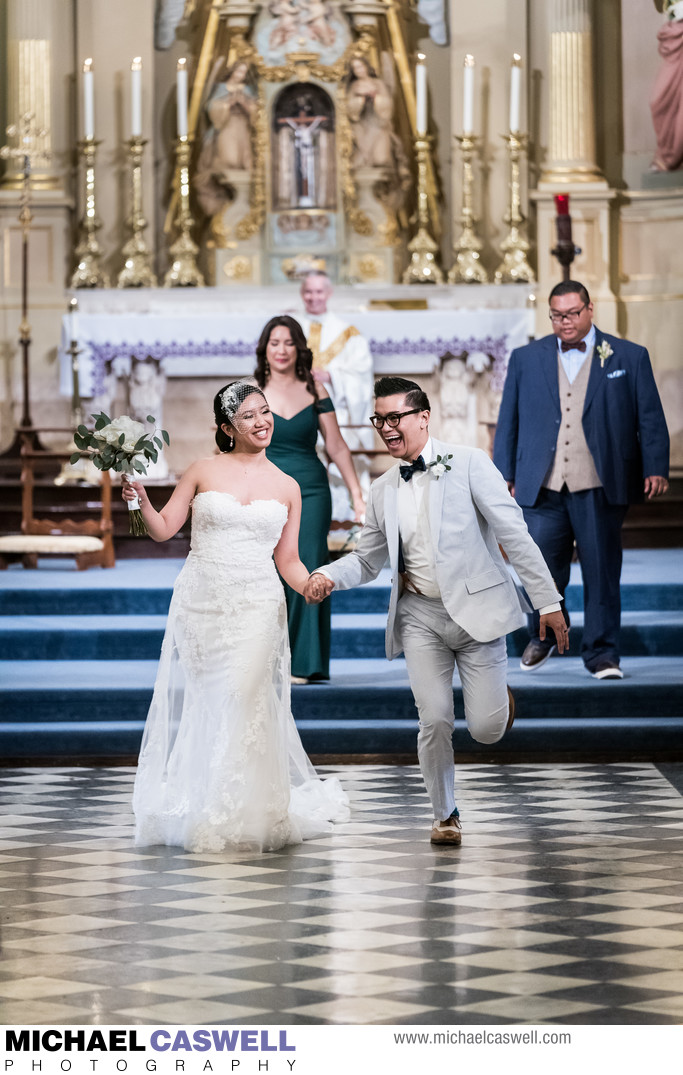 Their ceremony featured an amazing array of music… members of the Rondalla Club of Los Angeles played the processional and recessional, a choir group sang several times, along with a number of soloists, and the groom, himself an accomplished and talented musician, took a seat at the piano with his bride at his side to play a piece while communion was being given. Music played other prominent roles as well, with the ring bearer carrying the rings in a small instrument case, and the groom's wedding ring was hand-crafted out of special tonewoods by a musical instrument maker, and at the conclusion of the ceremony, the couple danced down the aisle of St. Louis Cathedral.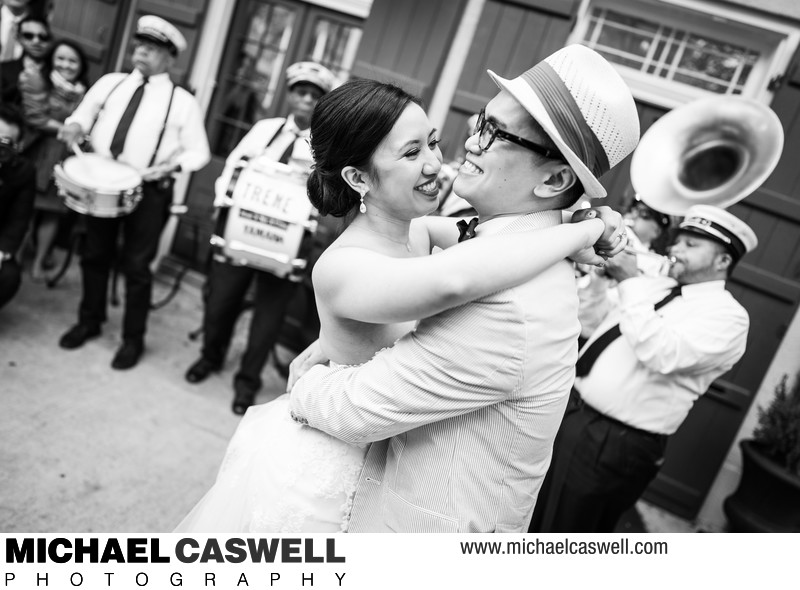 After some portraits of the bride and groom around the French Quarter, we all regrouped at the Royal Frenchmen Hotel in the Marigny, where the couple had a truly unique first dance... right there on the sidewalk on Frenchmen Street, surrounded by friends and family, with the Treme Brass Band playing behind them. We then headed straight down Royal Street in an awesome second line parade, ending up at the Court of Two Sisters, where the reception was to take place in the spacious and beautiful courtyard.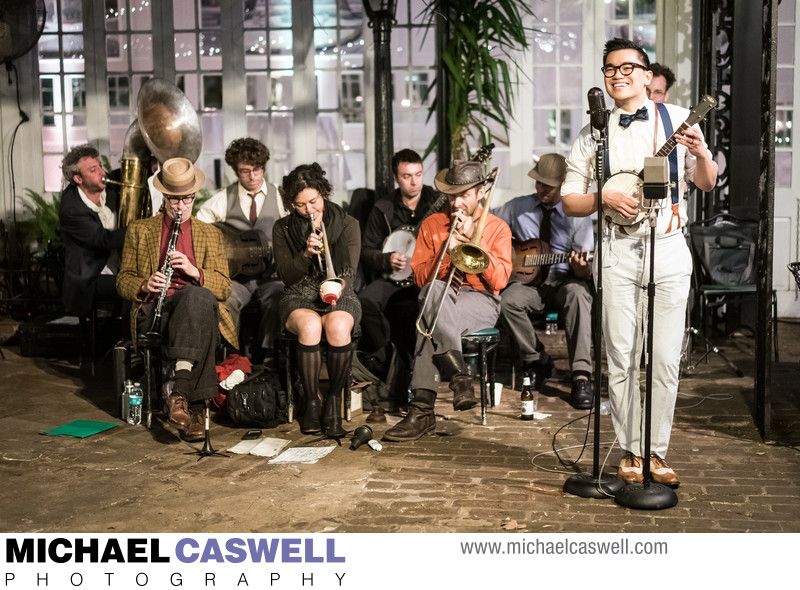 There, Sandra and Will's favorite New Orleans band, Tuba Skinny, provided the most authentic jazz music you'll ever hear at a wedding reception, and Will pulled out his banjo ukulele to play a song he wrote for Sandra. Later, the couple's friends from the Rondalla Club of Los Angeles also played a few pieces as guests engaged in some lively traditional Pilipino folk dances in which they attempt to balance a glass of water on top of their head as they move around, trying not to let the glass fall off.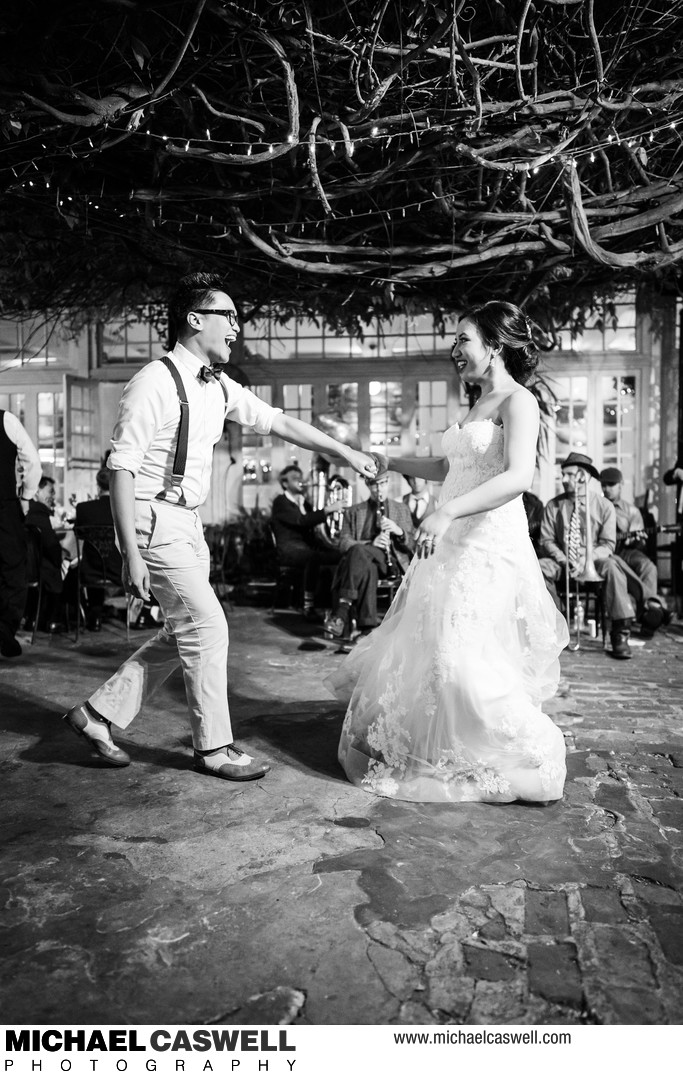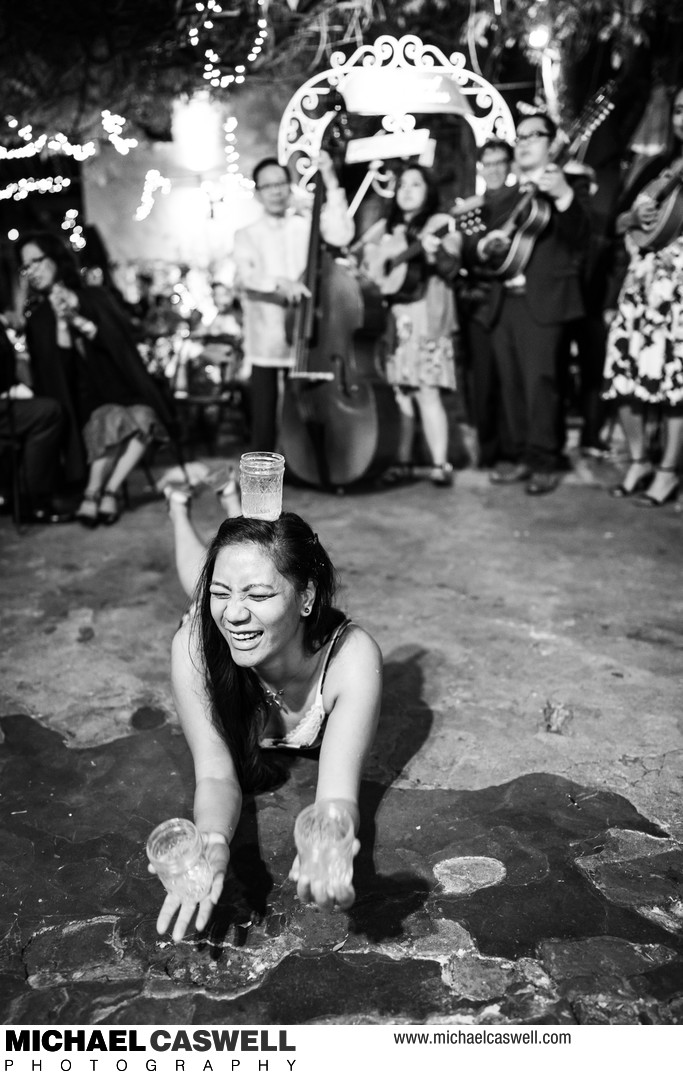 Coordinator: Emily Sullivan Events
Hair/Makeup: Flawless Bride
Videographer: Willofilms
Cake: Swiss Confectionery
Location: 900 Royal St, New Orleans, LA 70130.