Messina's at the Terminal Atrium Wedding Reception
This couple's style perfectly fit the restored classic art deco appearance of the atrium at Lakefront Airport's Messina's at the Terminal event space. This is a great venue to photograph a wedding in, as it's beautiful, spacious, and also has a balcony that wraps all the way around the space (perfect for elevated shots like this, and for placing a couple of remote flashes where they'll be both effective and safely out of the way). Here's what the bride had to say after the wedding:
Michael is wonderful to work with from start to finish. He does a fabulous job of getting all of the important shots at your wedding. He was like a photo ninja, you didn't even know he was there capturing everything! Even after my wedding, he continued to provide excellent customer service with my photobook and any other photography needs. He goes above and beyond to satisfy you. Thanks Michael, I will recommend you to everyone!!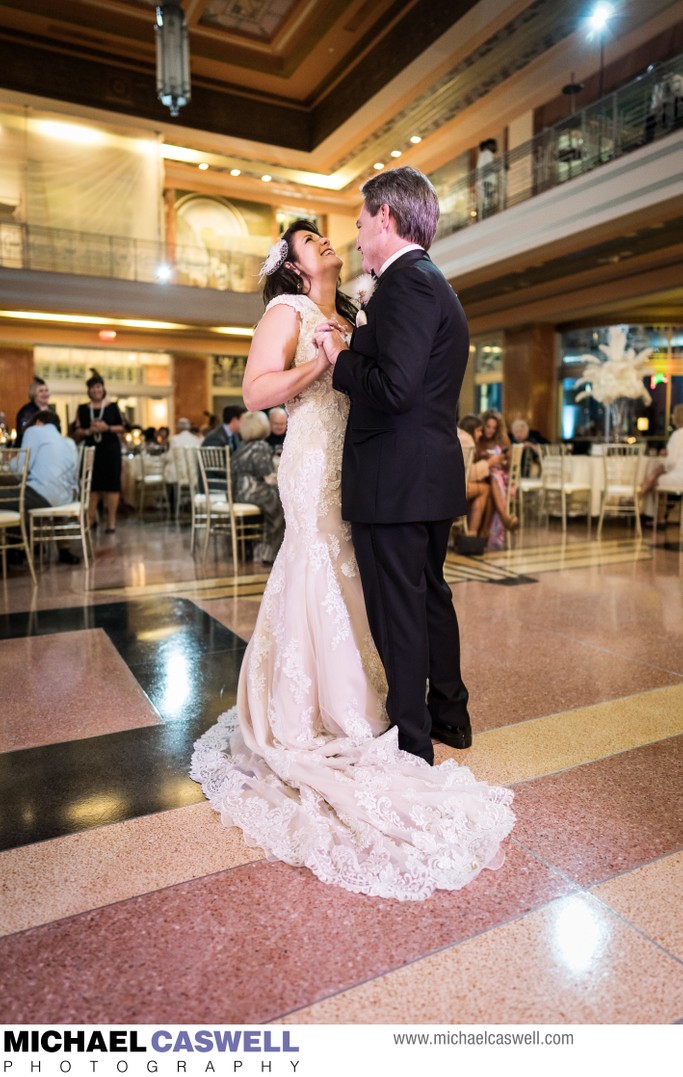 New Orleans Lakefront Airport's Terminal Building was built in the 1930s. Sadly, in the 1960s, in a move to make the building suitable for use as a cold war nuclear fallout shelter, a thick layer of concrete was added to the walls, with most of the art deco elements, murals, windows, etc. being covered up, turning the structure into a relatively plain and sterile-looking concrete box.
But thankfully, those in charge of the project at the time recognized the beauty and architectural significance of the Terminal Building, and in a truly remarkable display of foresight, took steps to preserve and protect those elements as much as possible during their work, which greatly facilitated the efforts decades later to restore the building to be closer to its original appearance.
Location: 6001 Stars and Stripes Blvd, New Orleans, LA 70126.