Audubon Park Golf Clubhouse Wedding Reception
I photographed this wonderful couple's wedding ceremony in Memphis, Tennessee, and their reception took place here in New Orleans a few months later at the Audubon Golf Clubhouse.
We started out the New Orleans portion of their wedding celebration with a portrait session that afternoon in the French Quarter and we got some great shots. We then headed over to the Audubon Park Golf Clubhouse for the reception, where Something Blue put on a great show and kept the crowd entertained.
The night was capped off by a visit from Mardi Gras Indians accompanied by a brass band, giving the guests a true taste of the amazing culture the city of New Orleans is so well known for!
Mardi Gras Indians are a unique fixture of New Orleans culture, and it's great when couples treat their guests to this kind of fascinating show. These tribes traditionally parade on Super Sunday, which is the Sunday closest to St. Joseph's Day in March, but also perform for other select occasions as well
The elaborate costumes are all strictly hand-made and can take as long as 9 months to construct. These particular Mardi Gras Indians are from the Uptown Warriors tribe.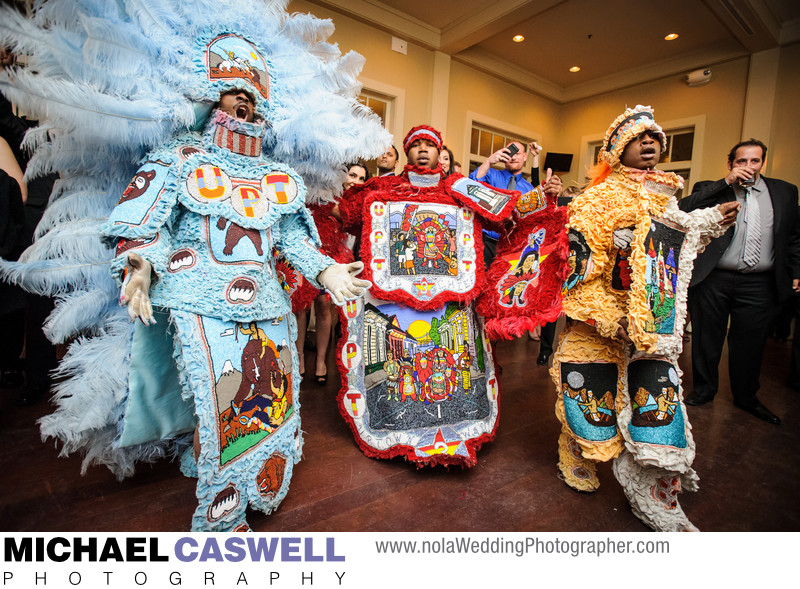 Wedding Ceremonies and Receptions at the Audubon Golf Clubhouse
Ceremonies at this venue usually take place outside, with several options available, such as the area behind the clubhouse, graced by beautiful oak trees, or the brick-paved patio.
The venue features a main room with a large bar, where most of the reception action usually takes place, as well as a separate room where the food is typically located. Larger events would be a bit tight in this space if it were all that was available, but the venue's patio and wraparound covered porch help immensely with providing other areas for your guests to eat and mingle.
Another option for bigger weddings, especially if a large band is providing the entertainment, is to have the band and dance floor outside on the patio. Tent options are available for weddings taking place in colder months or if adverse weather is predicted.
Memphis Ceremony, New Orleans Reception
As much as I love photographing weddings at all the fantastic event venues we have here in the New Orleans area, it's also nice to be able to do something completely different from time to time. Such was the case with this couple. When they first contacted me, they originally had just inquired about me shooting the reception, but liked my work so much they commissioned me to travel to Memphis to capture their ceremony as well, which I was delighted to do.
After the ceremony, we took some time around downtown Memphis for some fun portraits of the newly married couple, which was loads of fun. And I didn't realize that city had streetcars too!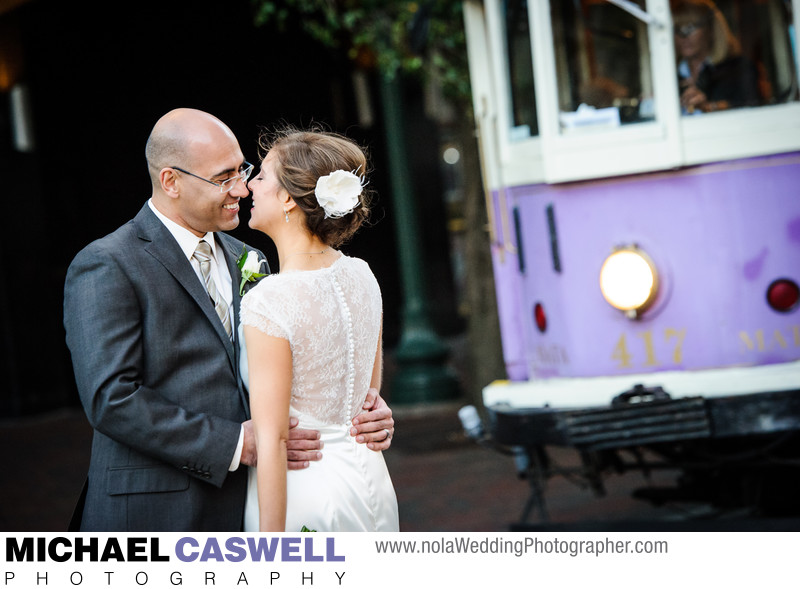 Location: 6500 Magazine St, New Orleans, LA 70118.