Beth's Florist Wedding Ceremony Setup
A good florist can turn a good space into a spectacular one, and that's just what Sue of Beth's Florist did for this wedding ceremony at The Gallery Venue at Tomas Bistro, with the old and weathered looking brick wall beautifully enhanced by the floral decorations and candles. Many florists have available some type of a custom-made metal or wooden structure such as this, to which they can attach appropriate fresh flowers, to provide a beautiful and impressive backdrop for where the ceremony is to take place.
This can make for a great background for formal group photos, but in the case of this couple, we did most of our group shots outside, across Julia Street, in front of the building that was the former site of the Louisiana Children's Museum, and the prominent blue doors make for a great backdrop.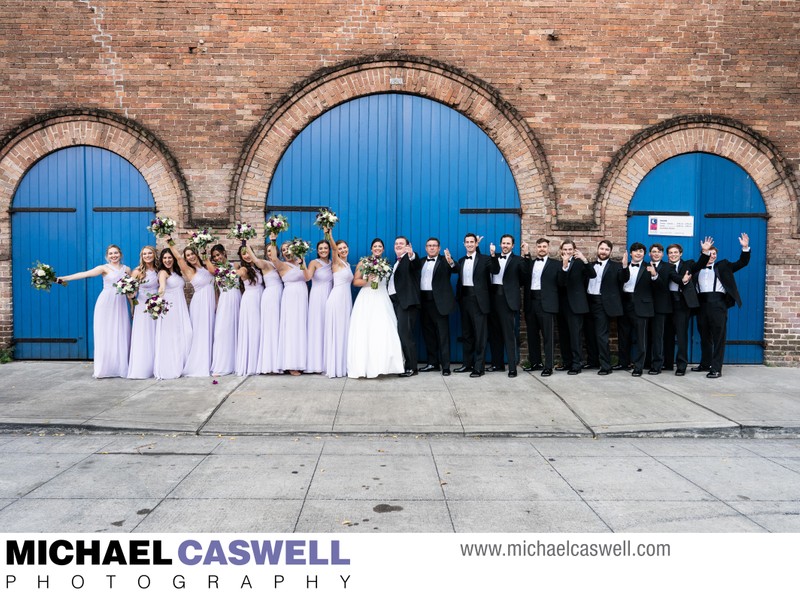 Here's the nice words the bride had for me after the wedding:
I'm very happy with our decision to have Michael as our wedding photographer. He most definitely exceeded our expectations! Our posed photos are beautiful but what I love most are his candids. He captured the magic of the day perfectly and we'll cherish his photos forever!
Location: 755 Tchoupitoulas St, New Orleans, LA 70130.