French Quarter Wedding Portrait in Exchange Place
It's great when couples set aside some time for these kinds of photographs, and Exchange Place, also known as Exchange Alley, is a great area for this.
This location is also a perfect spot for a first look with a bride and groom before the ceremony, as it is usually not terribly crowded with tourists in most circumstances. Of course, the light needs to be right, which is the most important factor. Though it varies throughout the year, typically around midday for a little while the alley will be in direct sun, which is not good for photographs. As the afternoon progresses, one side of the alley starts to be in shade, which is usable for pictures, with the entire alley being out of the sun by later in the afternoon.
I also like to get photographs of the couple walking in this alley.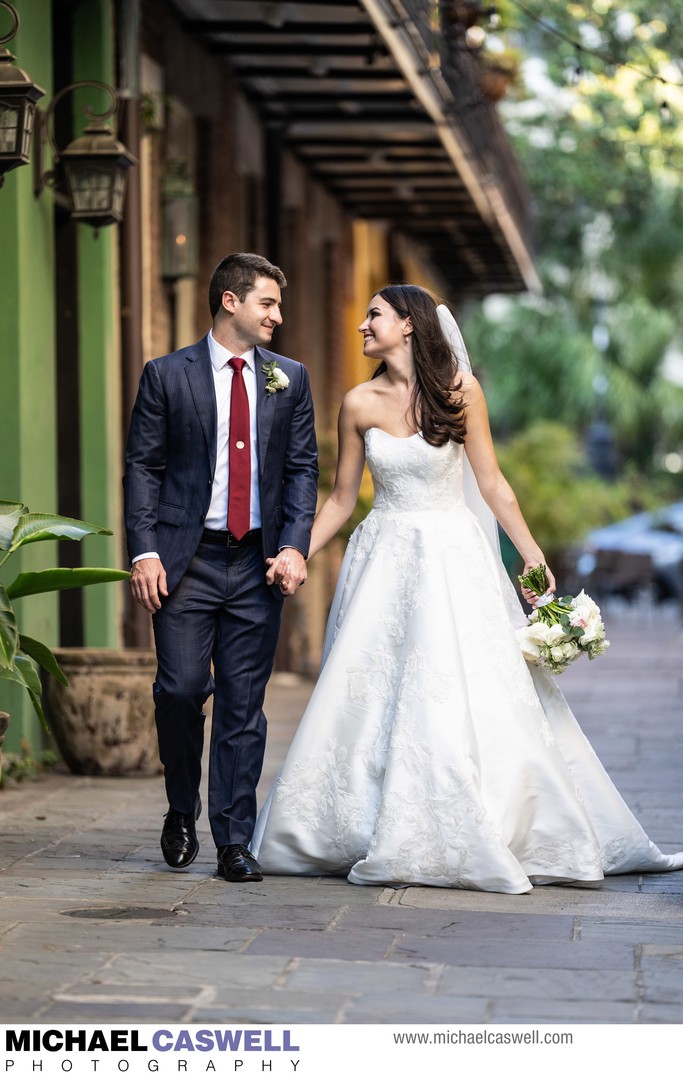 And some close-up shots as well.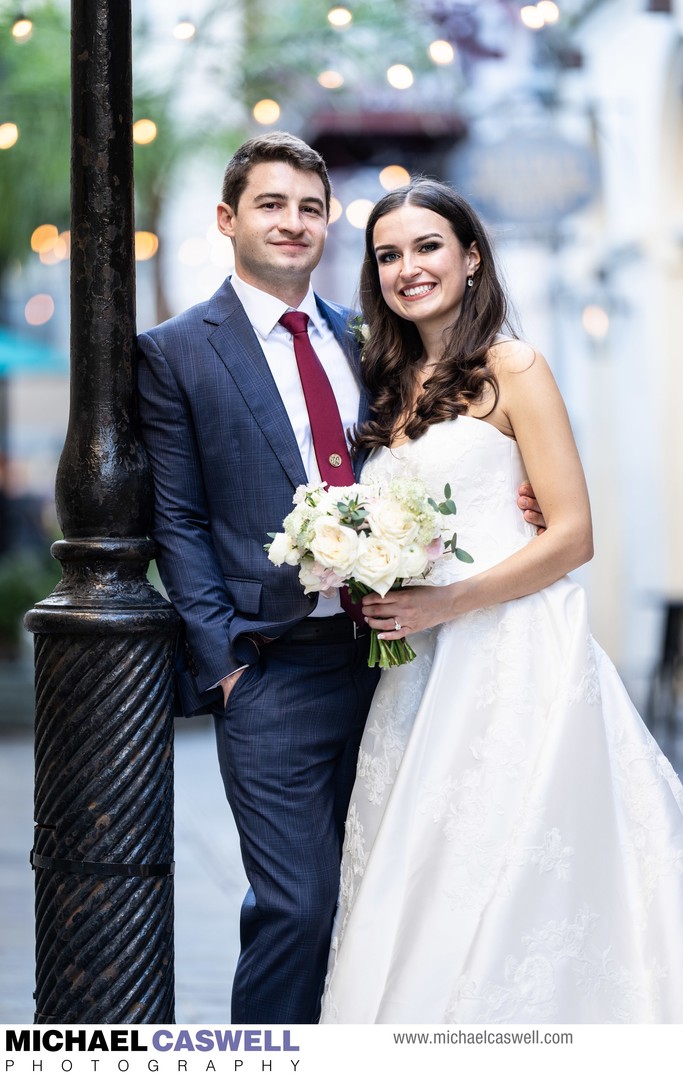 It's also a nice spot for some portraits of the bride.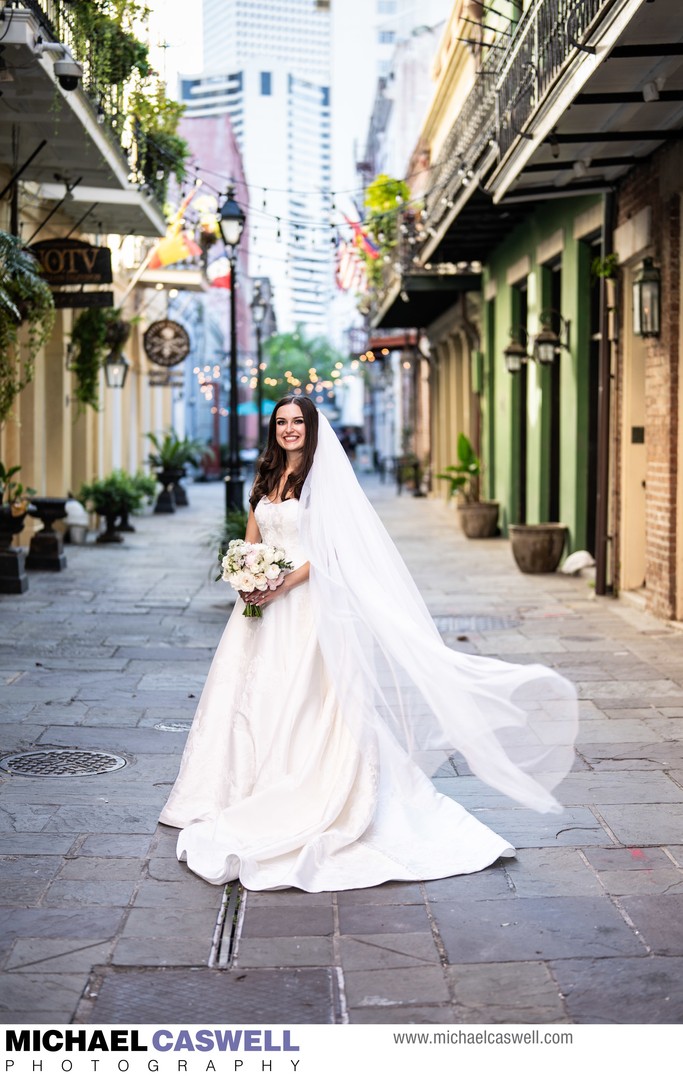 This couple's ceremony and reception took place at Latrobe's on Royal, which is just steps away from Exchange Place. So, naturally this is a perfect location for portraits for Latrobe's weddings.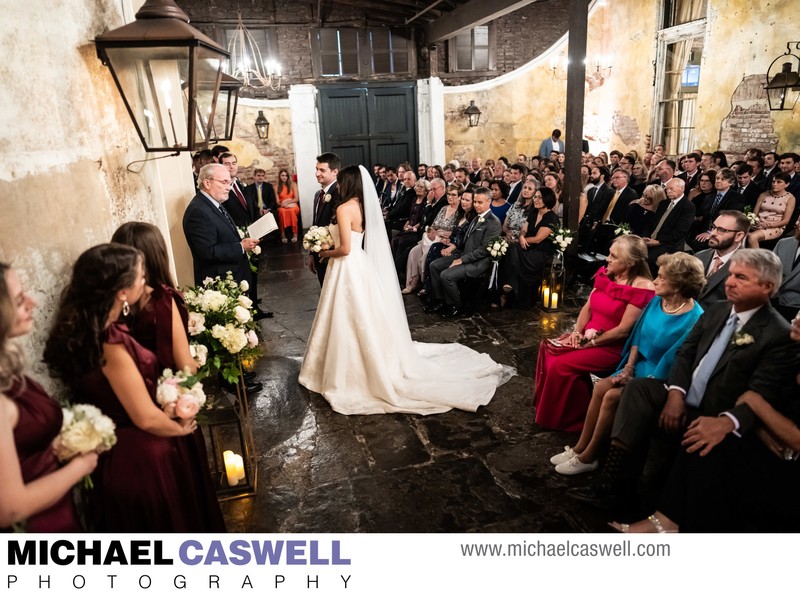 At the end of the reception, the Kinfolk Brass Band led everyone on a Second Line Parade to famous Pat O'Brien's, where the party was to continue!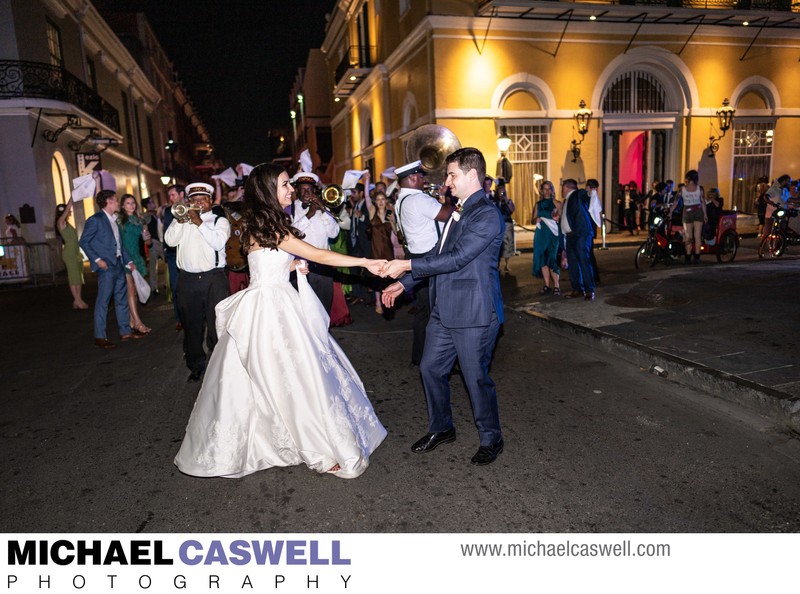 About Exchange Place
Exchange Place, also sometimes referred to as Exchange Alley, is a narrow street through a portion of the French Quarter, created in 1831 and designed by famed New Orleans architect James Gallier. Though I've seen some references that indicate it originally stretched from Canal Street to Toulouse Street, on old French Quarter maps I can only find evidence of it reaching St. Louis Street.
It was created in conjunction with the construction of the Merchants' Exchange Building, which was on Royal Street (with the rear of the building on Exchange Place), near Canal Street. This building suffered some fire damage in 1903, and then was destroyed in a more serious fire in 1960. The site is now occupied by the Wyndham Hotel.
Today, with the portion that had run between Conti and St. Louis now occupied by the Supreme Court building, Exchange Place ends at Conti Street. However, although Exchange Place does still exist from Canal Street to Conti Street, when most people discuss Exchange Place, they are referring to the pedestrian-only one-block section that runs between Bienville and Conti. The section between Canal and Iberville is a narrow street open to vehicular traffic, while the segment between Iberville and Bienville is essentially a service alley for Hotel Monteleone.
Location: Exchange Place, New Orleans, LA.