Audubon Park Wedding Portrait of Bride and Groom
This Audubon Park wedding day portrait of a bride and groom was captured at an interesting but somewhat neglected and abandoned-looking brick structure near the corner of Magazine Street and Tea Room Drive. I'm not sure what it's purpose was, whether it was constructed as a purely decorative embellishment to this entrance of the park or if it was once a shelter for gatherings, as it's not fully enclosed... there is no roof, and it just has two walls in an L shape (though I'm not certain if that's how it was originally built, or if the two missing walls were removed or destroyed later), but it makes for a great spot to photograph a couple on their wedding day, or for an engagement portrait.
The couple had had an intimate wedding ceremony at Touro Synagogue on St. Charles Avenue in New Orleans.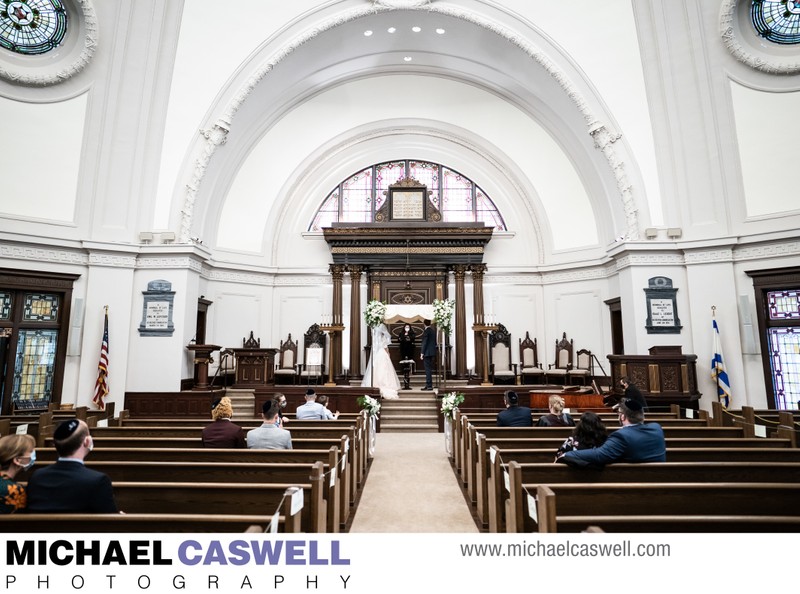 After the ceremony and a few quick formal group shots there, we headed over to the park to spend the rest of our coverage time creating portraits of the newly married couple.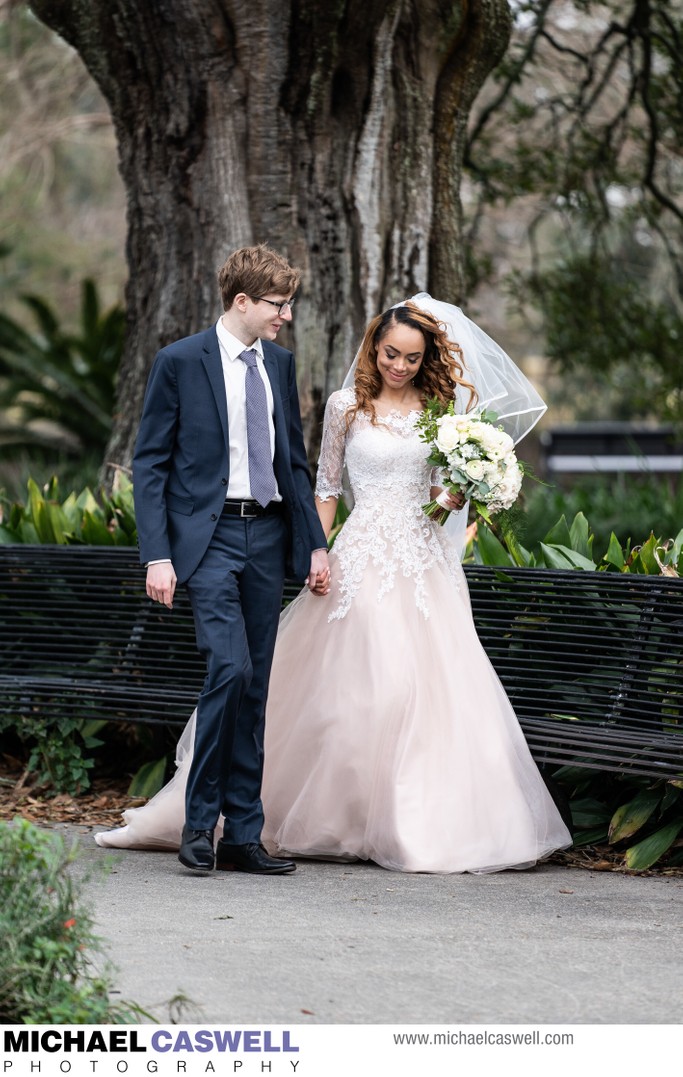 This image was taken near the St. Charles Avenue entrance to the park, where I asked the couple to simply walk along the curved section of walkway surrounding the fountain, holding hands, looking at each other, and talking.
Next, we headed over to the area of the Newman Bandstand, which is near the Audubon Golf Clubhouse.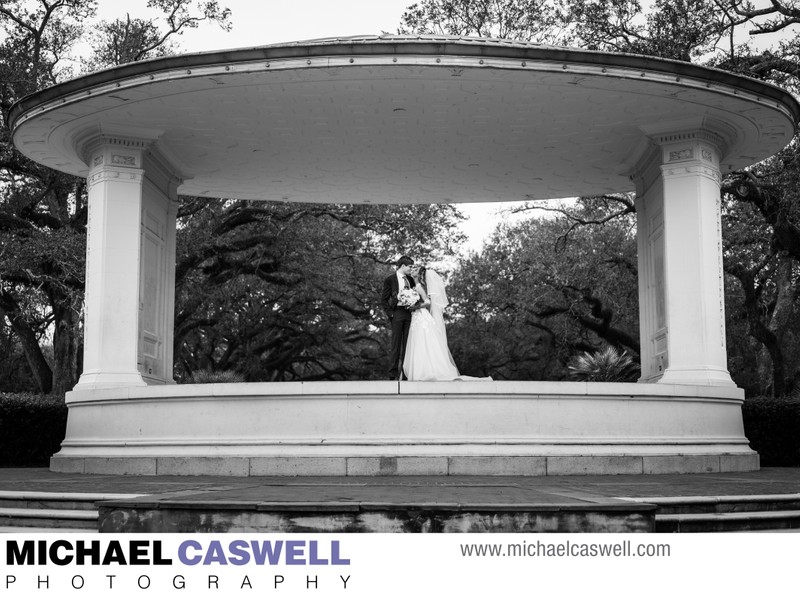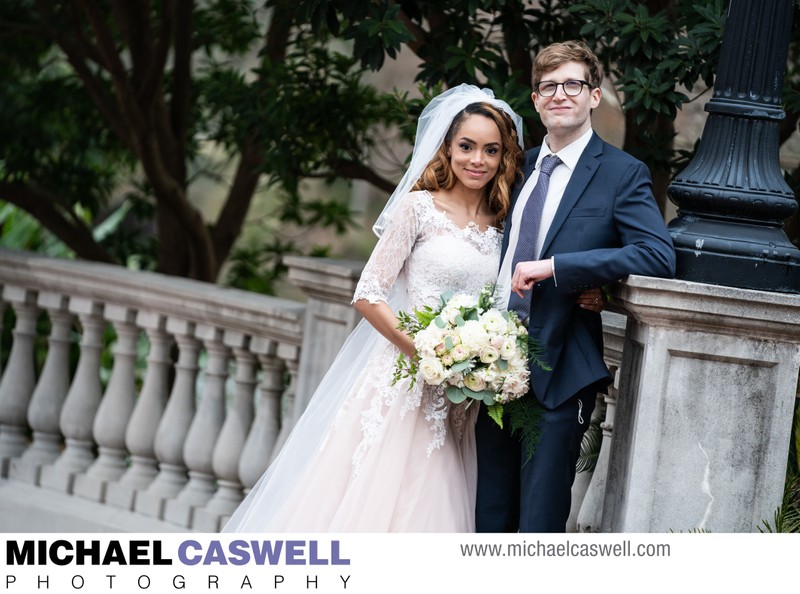 Nearby is an alley of large oak trees that lined with classic New Orleans lamp posts, and is a great spot for wedding day portraits or engagement portraits, though the timing here can be tricky, as Magazine Street is in the background, and care must be taken to try to avoid capturing vehicular traffic in the images.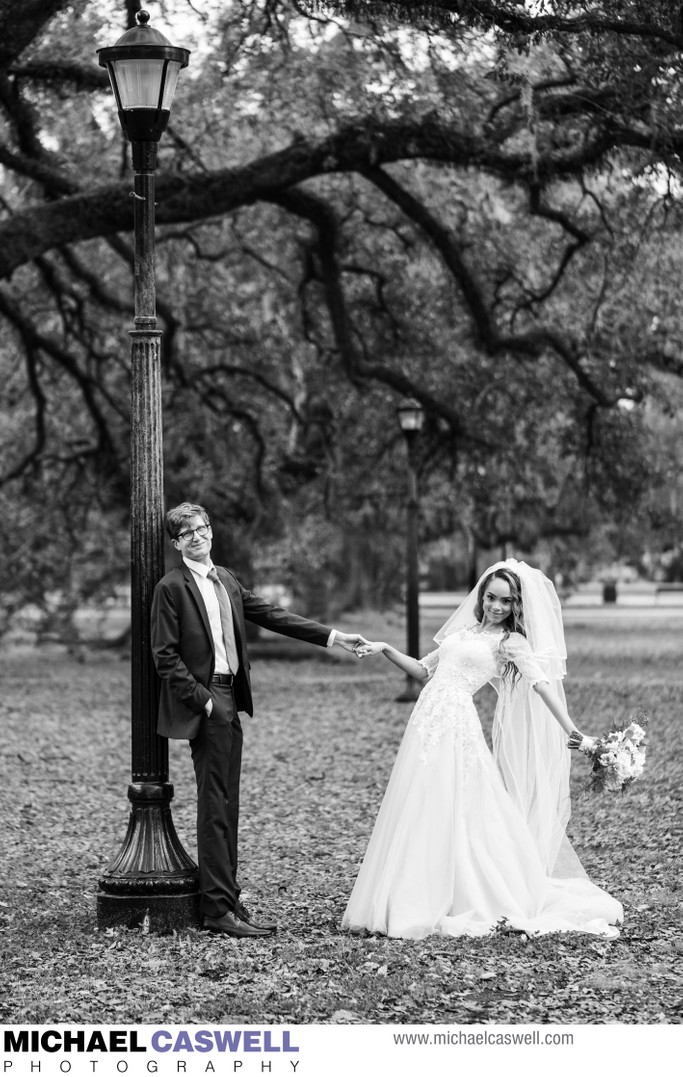 The opportunity to spend time at a relaxed pace on portraits like these with no stress and anxiety is one of the benefits of a more intimate wedding. While this type of extended portrait session can be worked into the schedule of any wedding, it can be a bit more complicated to fit it in for larger events. In some cases, couples opt for a post-wedding portrait session (also sometimes called a "day after session", though it's not always necessarily the day after the wedding) to have a chance to do more portraits in a relaxed setting.
Here's the nice review the groom wrote for me after the wedding:
Michael was really excellent - fantastic communication throughout, really nice and accommodating, he took us to beautiful spots for pictures in Audubon Park, and the pictures are truly amazing.
Location: 6500 Magazine St, New Orleans, LA 70118.