Wedding at Brennan's in the French Quarter
I had a wonderful time with this couple for their engagement portrait earlier in the year, and knowing their wedding would be truly an extravagant blowout of an event, had really been looking forward to it! The ceremony took place at world famous Brennan's Restaurant in the French Quarter.
The parents of the bride have a great office building that made for a perfect spot for the girls to get ready (with the Flawless Bride team of hair and makeup artists), and it also had a nice courtyard area that was ideal for the couple's first look (but not before the bride and her father had one last spontaneous rehearsal of their dance planned for the reception).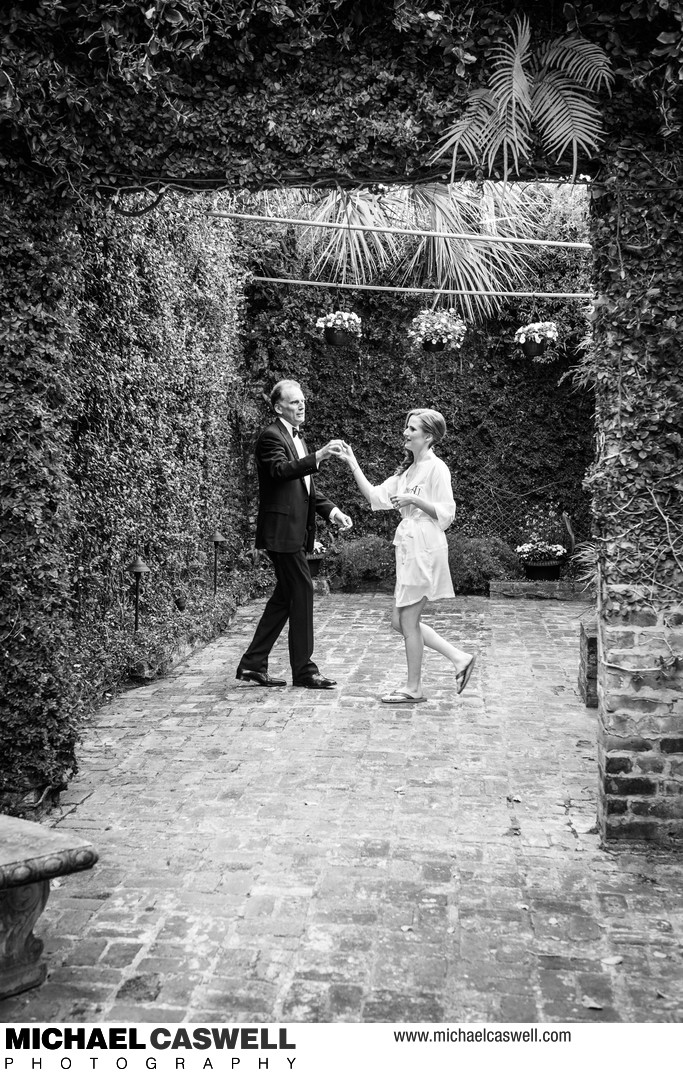 After the first look, we headed to Audubon Park to do the formal group photographs, where a bit of a wrench was thrown into our plans when we arrived to find tents set up for a big charity event going on in the spot where we had intended to shoot. However, we were able to improvise and find another area nearby in the park to do these pictures, and the charity event provided the beneficial side-effect of providing a source for ample refreshments for the bridal party.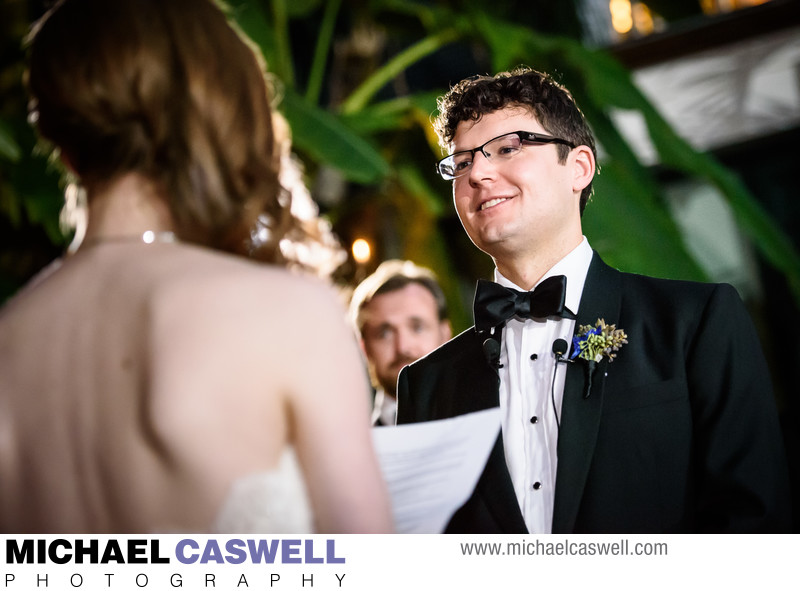 We then headed to the French Quarter, where the wedding ceremony was to take place in the lushly landscaped courtyard of Brennan's Restaurant, a gorgeous setting for the couple's exchange of vows. NOLA Flora provided the beautiful flowers, New Orleans Candlelight Weddings did the gorgeous candles and other decor, and Bridefilm was on hand to video the event.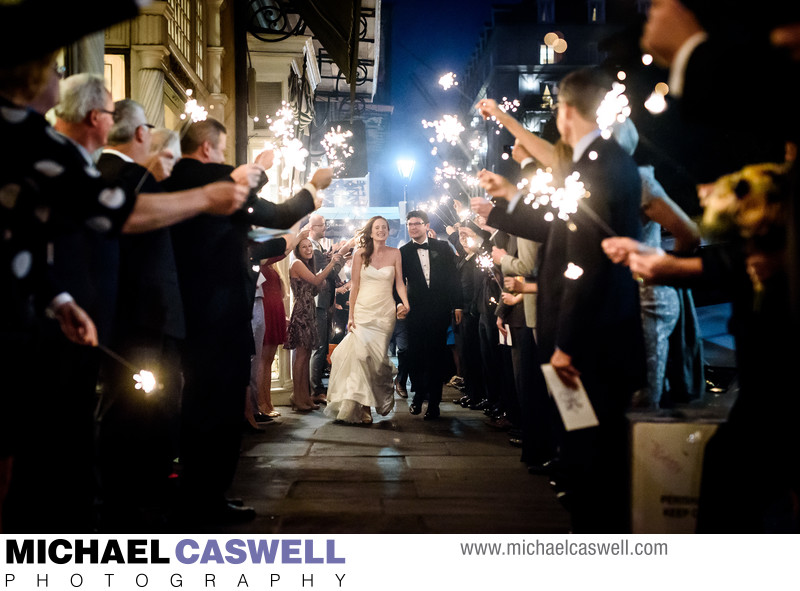 At the conclusion of the ceremony, the wedding coordinator staff of Unique Weddings in New Orleans expertly organized what was undoubtedly the longest sparkler send-off line I've ever seen, stretching from Brennan's all the way down the sidewalk to the entrance of Latrobe's, where the reception was to take place. There, the band Mojeaux provided the entertainment and were amazing as usual. Royal Cakery created the delicious wedding cake as well as the groom's cake, which was a perfectly rendered wooden wine barrel (representing the groom being in the wine business).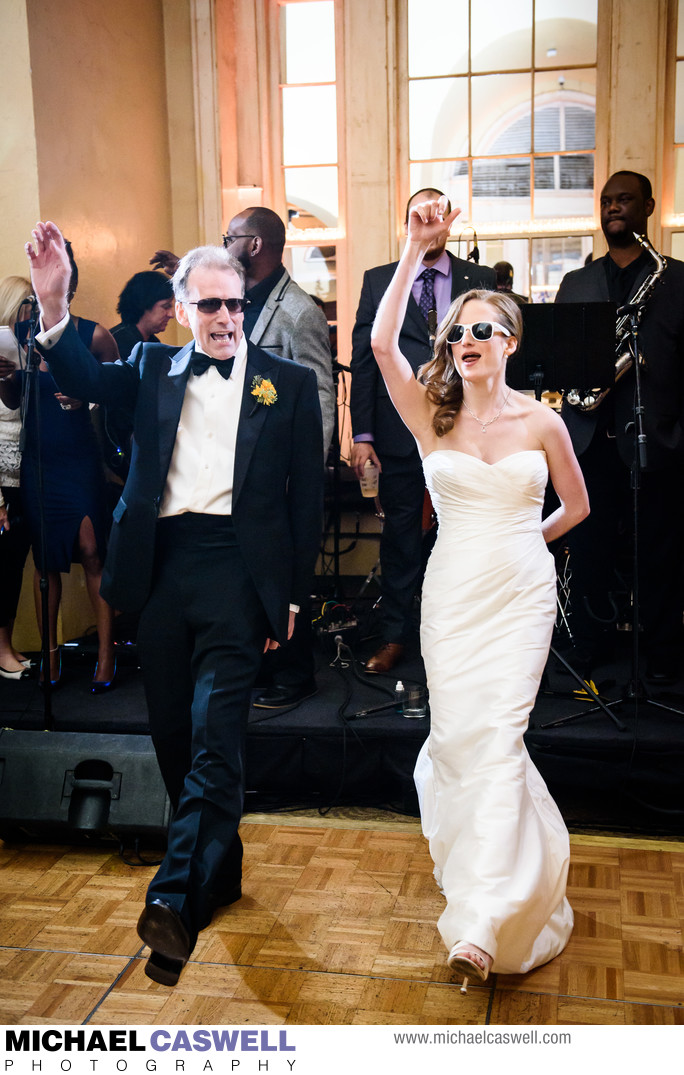 After the bride and groom's first dance and the groom and his mother, the bride and her father had their dance, which innocently started out with How Sweet It Is for a minute or two, before the band suddenly broke into Love Shack as, to the delight of the crowd, the two donned sunglasses and changed up their dance accordingly.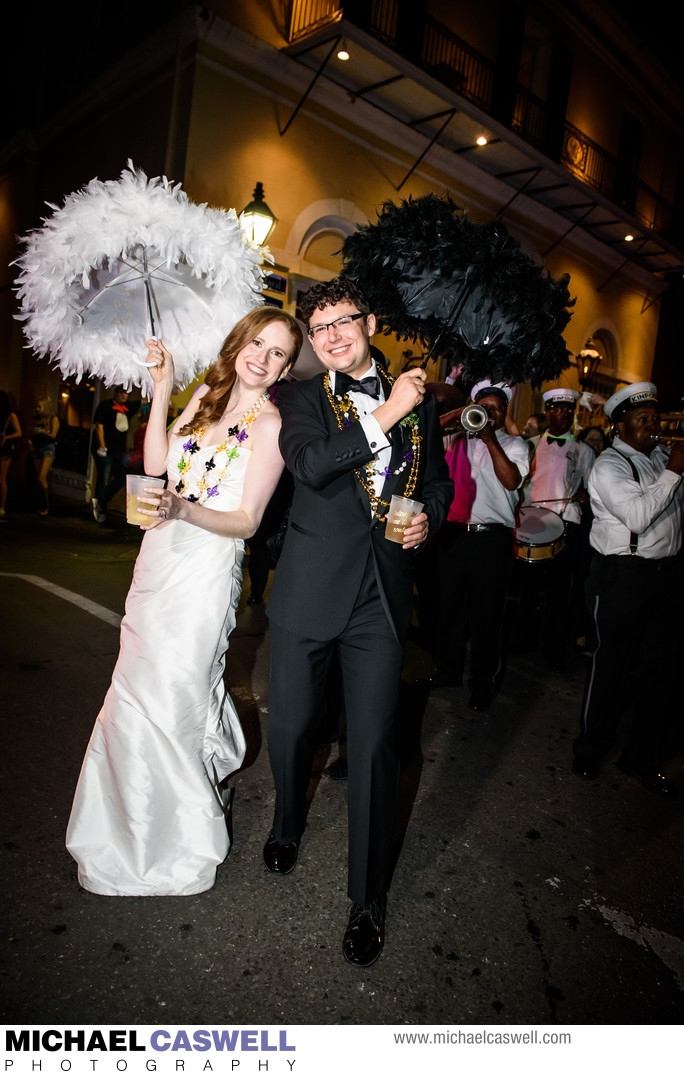 At the end of the night, the celebration was capped off by the fabulous Kinfolk Brass Band showing up to lead everyone on a festive Second Line parade through the French Quarter to Napoleon House, where the party was to continue.
A month or so after the wedding, the bride wrote this awesome and extensively detailed review:
Michael earned every single one of these 5 starts. Seriously. Michael was an absolute delight. Not only was he a pleasure to work with personally, but his work is amazing. A few highlights:
(1) My husband and I don't live in NOLA, so we flew in to do our engagement photos and, of course, it rained the day of our shoot. Michael was very helpful in trying to find creative indoor alternatives and spent a full hour (or two?) shooting with us, but he knew that I was disappointed to miss out on some classic French Quarter shots in natural lighting. With incredible kindness and generosity, Michael offered us a second engagement shoot a couple days later before we left town at no additional fee. And, of course, the photos were so great that we used them as decor throughout the wedding reception venue.
(2) He is the nicest, easiest to work with guy. Never obnoxiously pushes his own artistic agenda like others do, and he somehow manages to make you forget he's there while simultaneously managing to be everywhere and capture everything. After seeing the behavior of many photographers across many weddings, many of my family and wedding party commented on how wonderful our photographer was to work with.
(3) He is a flexible and thoughtful photographer who actually listens. He fulfilled every specific photo request we had, rolled with our many changes to timelines and photo orders etc., and was able to think on his feet when encountering a few hijinks (such as our rained out engagement shoot or the unexpected concert/party in the exact spot in Audubon Park where we planned to do all of our family / wedding party pictures).
(4) He captures emotion, not staged shots or objects. Looking through our pictures, I can actually FEEL the love, the joy, the excitement, and the laughter that permeated the entire weekend. Thank you thank you Michael for allowing us to relive these moments for the rest of our lives.
(5) Finally, don't let his casual and friendly demeanor deceive you - this guy is an artist. We just received our wedding pictures a few days ago and it's going to take me forever to narrow down to a selection for our book -- there are just too many incredible shots! If you're considering hiring Michael, I sincerely hope you do. My husband and I will spend the rest of our lives treasuring his work.
Location: 417 Royal St, New Orleans, LA 70130.