St. Joseph Church Wedding Ceremony in New Orleans
This couple's wedding ceremony took place at St. Joseph Catholic Church on Tulane Avenue in New Orleans.
This beautiful church was built in the late 1800s, and is certainly among the most visually impressive churches in the area, as well as one of the largest, able to accommodate up to 2,000 people. St. Joseph Church's pastor, Father Tom, is known for pulling out his accordion and performing a song for the couples he marries.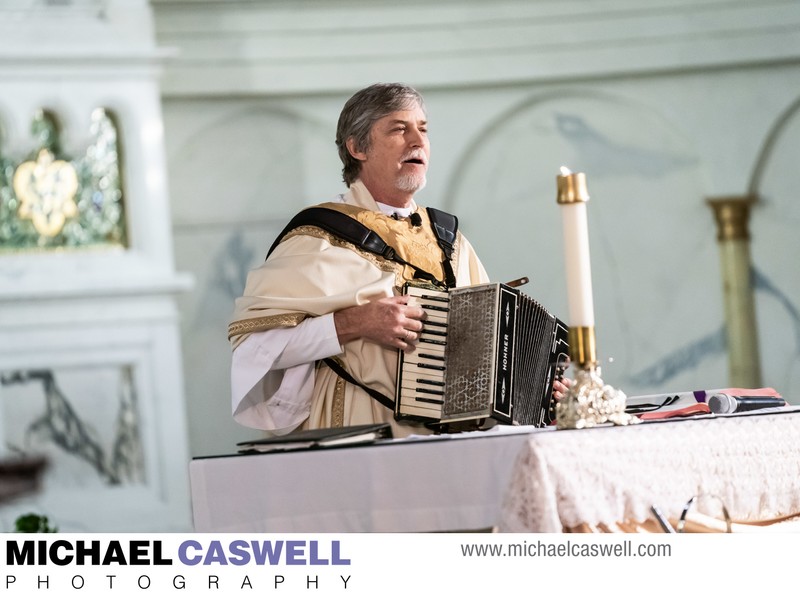 After the ceremony, we had all the guests gather out in front of the church on the steps for a giant group shot. Because the front of the church faces the northeast, the mid-afternoon sun was behind the church, placing this area in shadow which, along with the large steps, made it ideal for this kind of photograph.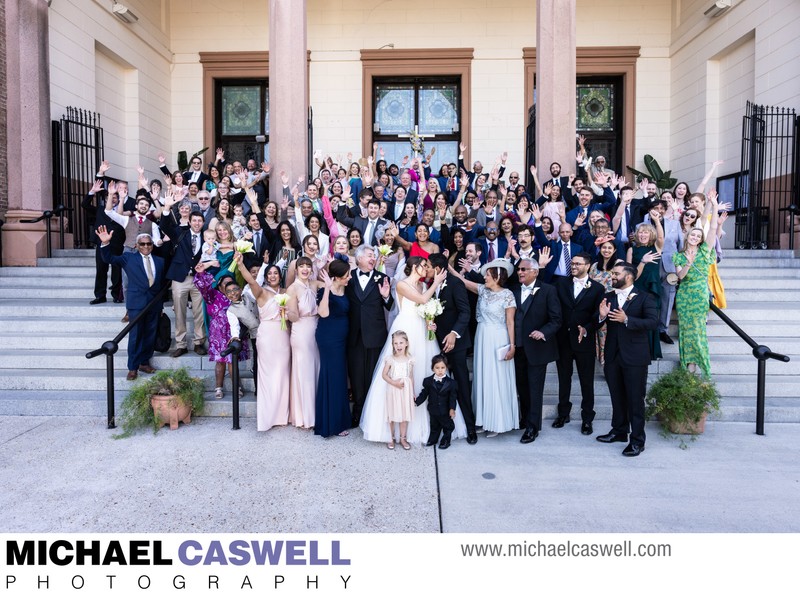 After some portraits of the couple and wedding party in the French Quarter we proceeded to the Four Seasons New Orleans Hotel for the reception.
About St. Joseph Catholic Church
The parish came into being in 1844, with the original smaller church being located near Charity Hospital. The land on which the current church sits was purchased in 1866, and construction began in 1869, but the building was not completed until 1892. Interestingly, the church was initially very sparsely furnished, with plain glass windows, a simple wooden altar, and no pews. Furnishings and decor such as the beautiful stained glass windows and a marble altar were added over the course of the following three decades are so, as funds were raised for these projects.
The historical marker plaque outside the church reads as follows:
Saint Joseph Church
This building replaced an earlier church, erected in 1844 on Common St. (Tulane Ave.) opposite the Charity Hospital of Louisiana – breaking for the present edifice took place May 9, 1869. Construction continued intermittently until dedication December 18, 1892. The congregation of the mission, first community to answer the appeal for European priests by Bishop Louis W. Durbourg, Second Bishop of Louisiana (1815 - 1826), continuously served the parish form the time Fr. John Hayden C.M., became pastor in 1858. He remained until chosen U.S. Lazarist Provincial shortly after undertaking work on this monumental structure.
Location: 1802 Tulane Ave, New Orleans, LA 70112.