New Orleans Board of Trade Wedding Ceremony
This New Orleans Board of Trade wedding took place on a pleasant December evening. Board of Trade is a truly unique wedding venue, located in the downtown area on Magazine Street. It's always wonderful to see magnificent and beautiful old buildings like this, that have outlived their original purpose, revitalized and turned into special event venues. This particular venue also had some additional fame in 2020, as it was heavily featured in that season of the TV series Married at First Sight, being the venue for several of the featured weddings, as well as the site at which, near the end of the season, the couples would reveal whether or not they intended to remain married. I'm typically not really into such shows, but as a New Orleans wedding photographer, I couldn't resist watching at least some episodes!
This couple began their wedding day with a first look and some portraits at the spacious Airbnb where the bride and bridesmaids got ready.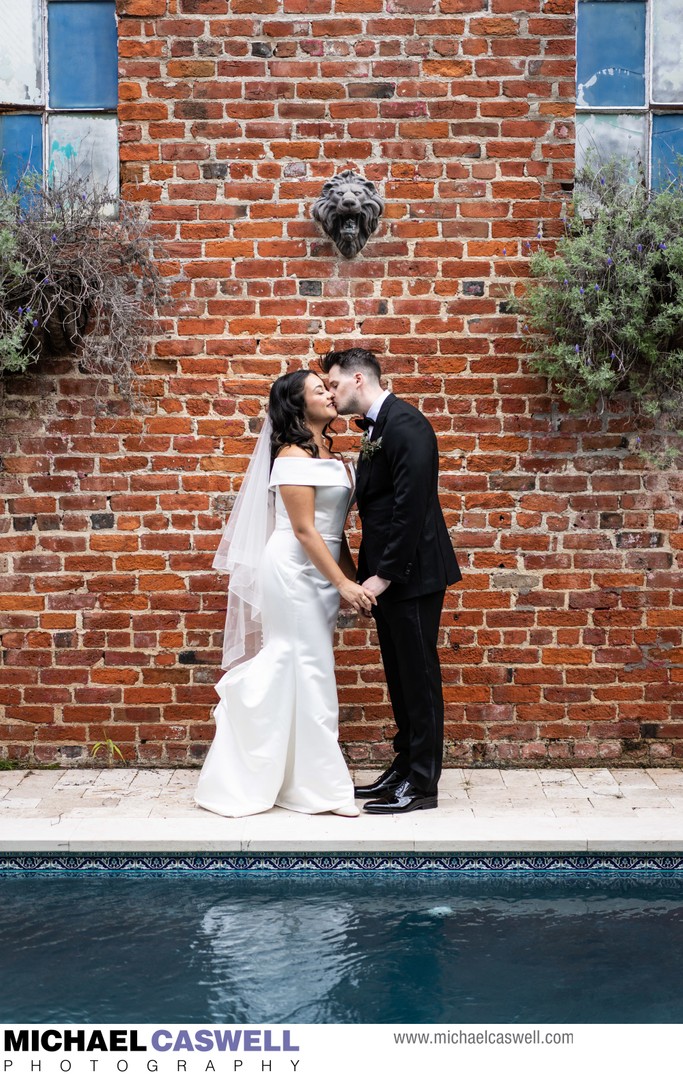 New Orleans Board of Trade WEDDING CEREMONIES
The courtyard is a perfect spot for an outdoor wedding ceremony, such as this event, which took place in the typically mild weather of late September. The spacious courtyard features a large fountain as its centerpiece, as well as numerous trees and lush landscaping. Ceremonies also sometimes take place on the opposite side of the courtyard, or in the Arcade, which is the covered entryway area (and thus can also serve as a backup in case of rain).
RECEPTIONS AT BOARD OF TRADE
This venue's indoor space is one of just a handful in New Orleans that can accommodate a very large wedding reception. The domed ceiling mural, painted in the early 1930s, depicts activities surrounding coffee beans and the other commodities that were traded on the floor in the building's heyday. Pigeón Caterers provides the excellent food for events here.
The courtyard is also typically utilized during receptions, providing an outdoor space for guests to relax in and converse away from the loud music of the party if they wish. But for this particular wedding, all of the reception action actually took place outside, with the indoor space mainly being used for food service.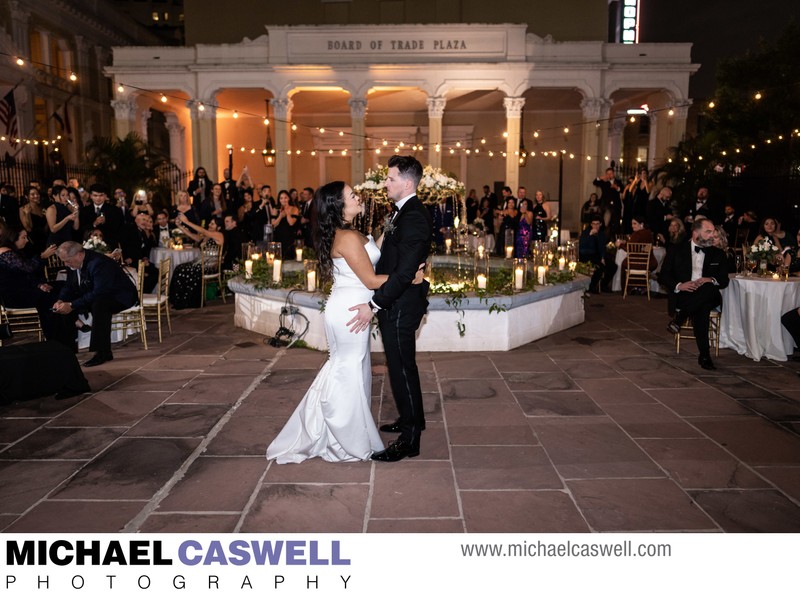 At the end of the night, the couple and their guests went on a second line parade through the streets of the city!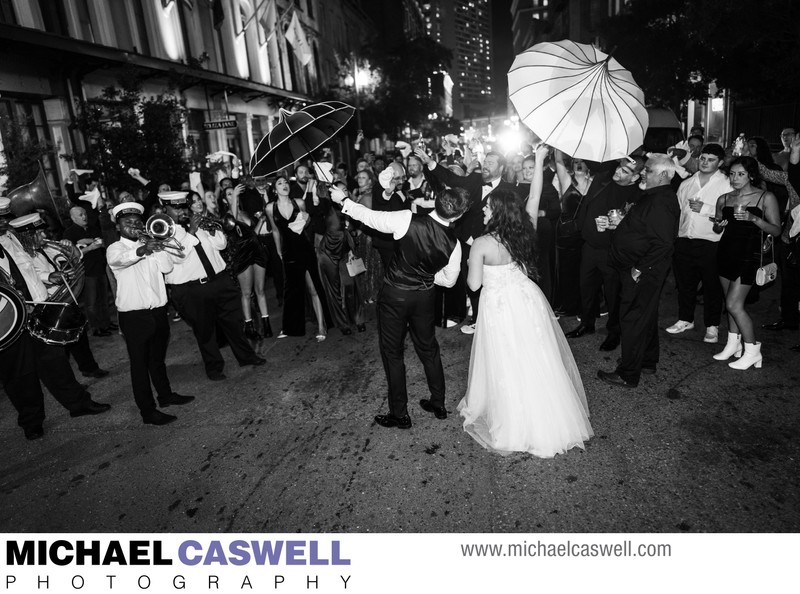 Though not the case for this wedding, the Arcade is a great spot for a sparkler sendoff, as it provides a long . A plaque in this area reads in part:
Board of Trade Plaza. This site was originally part of the plantation granted on March 27, 1719 by the Company of the Indies to Jean Baptiste Lemoyne, Sieur de Bienville, Founder of New Orleans. In 1833 Banks Arcade was erected here by Thomas Banks, Charles F. Zimpel, architect. Activities in support of the Texas Revolution were planned here in 1833. This part of Banks Arcade was demolished in 1859 and replaced by the St. James Hotel, L.E. Reynolds, architect, seized by federal forces in May 1862 for use as a hospital. Banks Arcade was renamed Board of Trade Place after 1883 when the Board of Trade building was erected. The old St. James Hotel was originally acquired by the Board of Trade May 10, 1889, and demolished in 1967. Its cast iron columns and arches were preserved and re-erected as part of this plaza.
Location: 316 Magazine St, New Orleans, LA 70130.