Engagement Portrait on Langles Bridge in City Park
This old stone bridge, known as the Langles Bridge, is probably the most photographed spot in New Orleans City Park. Popular for engagement portraits and bridal portraits, it's a beautiful bridge that photographs very well, especially in the late afternoon / early evening. In addition to this angle, the bridge can also be photographed from the opposite side, from another more modern looking concrete bridge.
I also sometimes like using this bridge as a background element, such as in this image: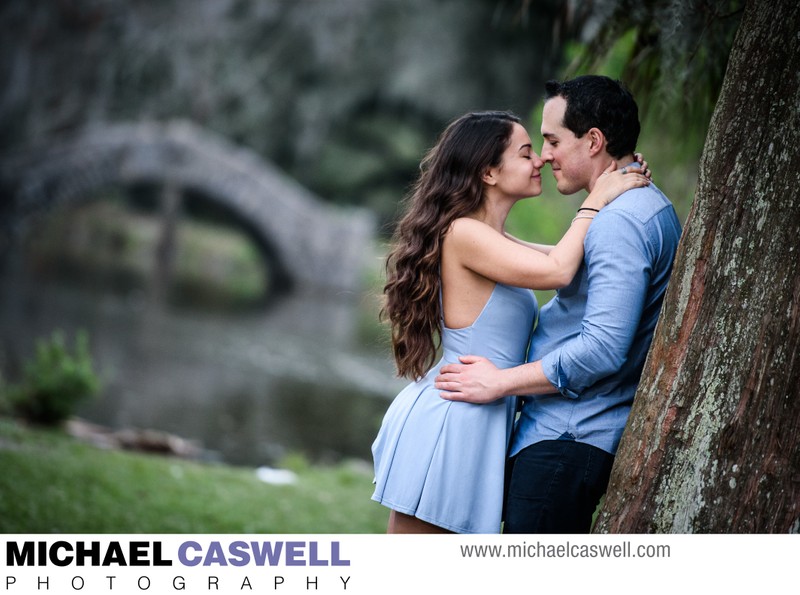 This New York couple came to New Orleans for a vacation, and although they were not getting married here, they decided to do an engagement portrait session here during their trip.
Langles Bridge
The bridge was constructed around 1902. Known as the Langles Bridge, it was named in memory of Angele Marie Langles, a New Orleans resident who, in 1898, died in her mid-30s when the steamship she was traveling on with her mother tragically collided with another vessel in dense fog in the North Atlantic and sank. Her estate left $650 to New Orleans City Park, and this bridge over the bayou was built with the funds.
Location: Dreyfous Dr, New Orleans, LA 70119.