Livaudais Hall Wedding Venue Bridal Portrait
Livaudais Hall is a relatively new wedding venue located in the Uptown area of New Orleans. The historic structure was built in 1875 and originally served as St. Francis De Sales Catholic Church until being deconsecrated in 2008. An initial buyer of the property planned to repurpose it as a community center, but those plans didn't get off the ground. The current owners purchased it in 2017 and proceeded to painstakingly restore it for its new life as a home for weddings and other events.
This bride's wedding did not take place at Livaudais Hall, but she was referred to the venue by the owners of another popular repurposed church venue, Felicity Church, when they were not available on the day she could do her bridal portrait. It turned out to be a great choice, as the space photographs beautifully and was spectacular for a bridal portrait location.
I particularly loved this whole upstairs area, as the choir loft offered a nice, unobstructed view of the beautiful warm toned wood in the background, with the woodwork of the railing behind the bride having a gorgeous aged look.
This patina was even more evident in this photo.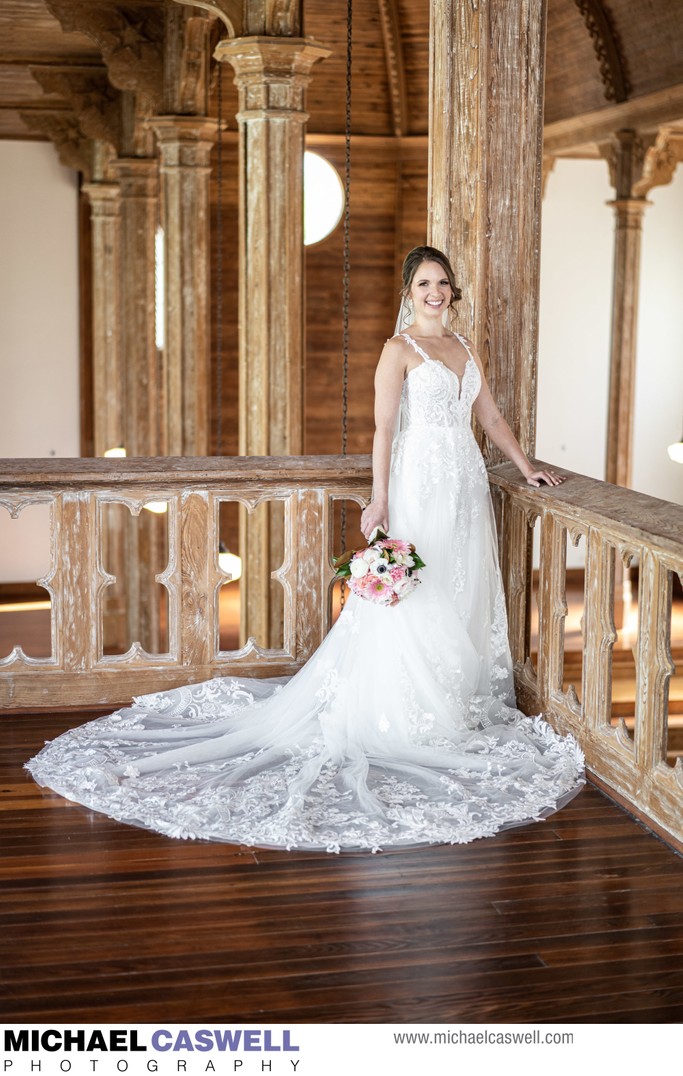 The bride spotted this window off to the side of the choir loft area, and we created a nice series of more dramatic images here.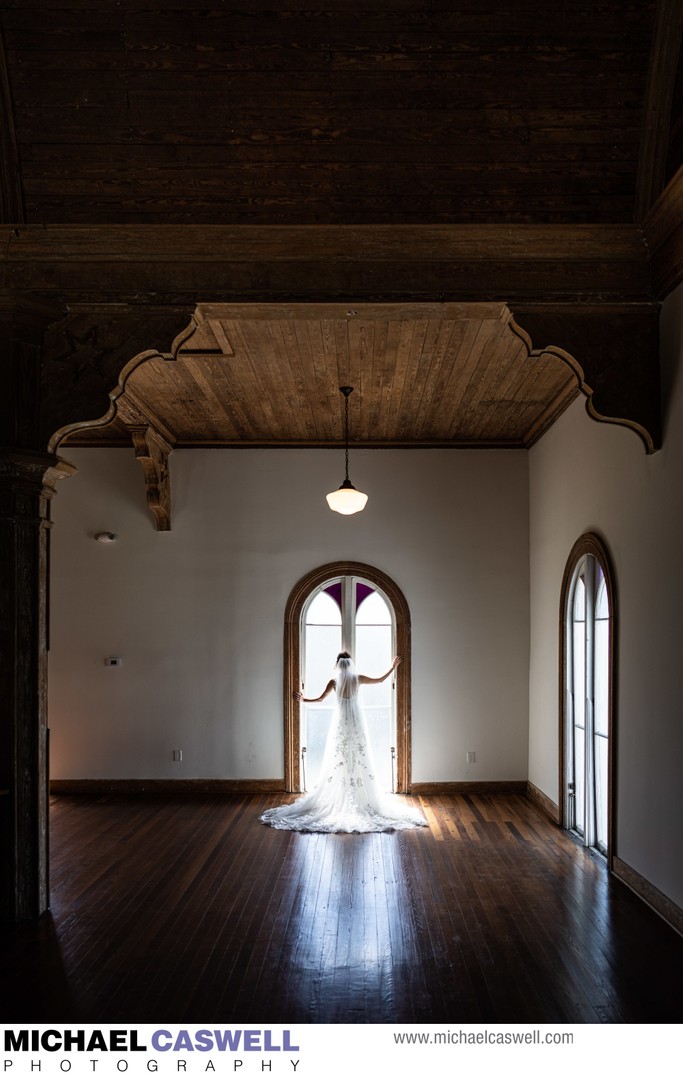 We also grabbed a few shots downstairs in the main part of the sanctuary. Like Felicity Church, Livaudais Hall has large windows that let lots of beautiful natural light stream in.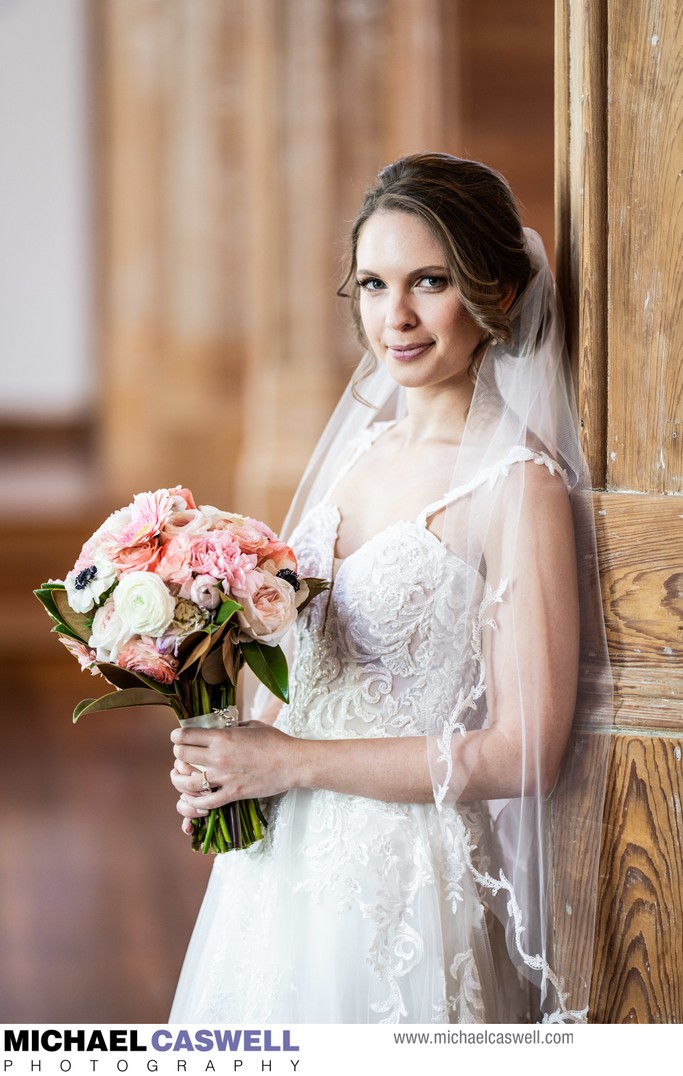 Lastly, this lovely grotto adjacent to the church provided a completely different look, though the bride and the attendants who accompanied her had to be excruciatingly careful getting her into this spot, as the purple flowers visible in the foreground of this photograph would have stained the dress..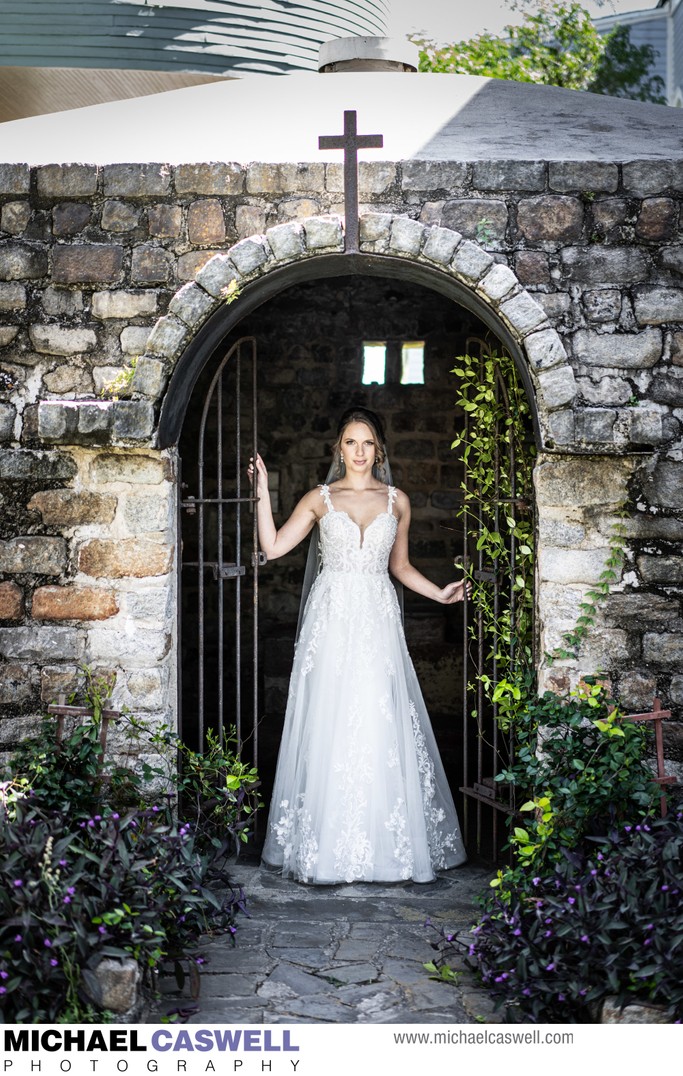 The wedding took place about two months later, with the ceremony being held at Immaculate Conception Catholic Church in downtown New Orleans, and the reception across the street at the elegant Roosevelt Hotel. After the wedding, the bride's mother had these kind words for me:
Thank you Michael for your help in celebrating our big day. From the pre-wedding portrait to the event day I knew I was in good hands as I navigated an out of town wedding with many moving parts. Your talent is extraordinary and your patience divine. Job well done!
And here's what the bride had to say:
We used Michael for our full day wedding ceremony and reception photography, as well as for my individual bridal portraits. He was so professional and made us feel comfortable throughout what can be a very nerve-racking day! The pictures turned out so beautifully, and he was responsive and extremely helpful through the whole planning process. We got our edited photos back quickly and we would recommend Michael for anyone's photography needs in the New Orleans area!
Location: 2205 Second Street, New Orleans, LA 70113.