Bridal Portrait at Felicity Church in New Orleans
Felicity Church, a wedding and event venue located in Uptown New Orleans, is a great location for a bridal portrait session. Although the obvious benefits are that there are no worries about rain or uncomfortable temperatures, it's also a beautiful location that photographs exceptionally well, with lots of uniquely gritty yet elegant character.
The daytime lighting in this building is about as good as it gets for portraits. Most of the windows are frosted, which allows glorious diffused light to stream in from all directions, while also largely eliminating the visual distraction of being able to see neighboring buildings, cars, utility poles, etc. I still bring my own lighting equipment to these sessions, as it's still useful for certain things, but I use it very minimally, instead largely relying on the gorgeous natural light.
This dramatic black and white image was captured after I asked the bride to move up the stairway a bit in preparation for a particular shot I wanted to do, and I liked the way it looked as she was making her way up the stairs, so I asked her to repeat that a few times as I shot a series of photographs. This kind of purposeful expression of movement presents a nice contrast to the more typical stationary posed bridal portrait.
The building dates back to 1888, and served as a Methodist church for area residents for many years. It was heavily damaged in Hurricane Katrina, and sat neglected until the current owners purchased it in 2011 and beautifully restored it for use as a unique wedding and event venue. It takes a bold vision to take a hopelessly dilapidated old structure and turn it back into a useful space! Since then, several other similar projects have been undertaken by others, such as Livaudais Hall in the Uptown area, and, on an even grander scale, Hotel Peter & Paul in the Faubourg Marigny.
Here are a few other images from this bridal portrait: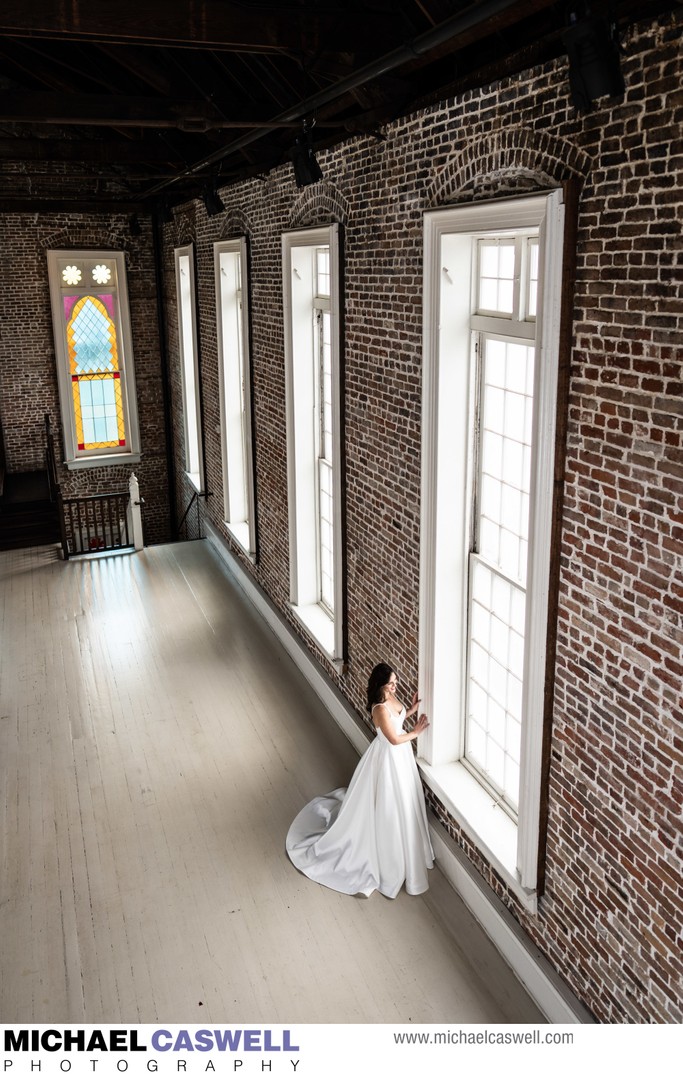 One of the best things about photographing in this location is the ample natural light that streams in through the large windows. This shot was captured from the choir loft balcony overlooking the main space.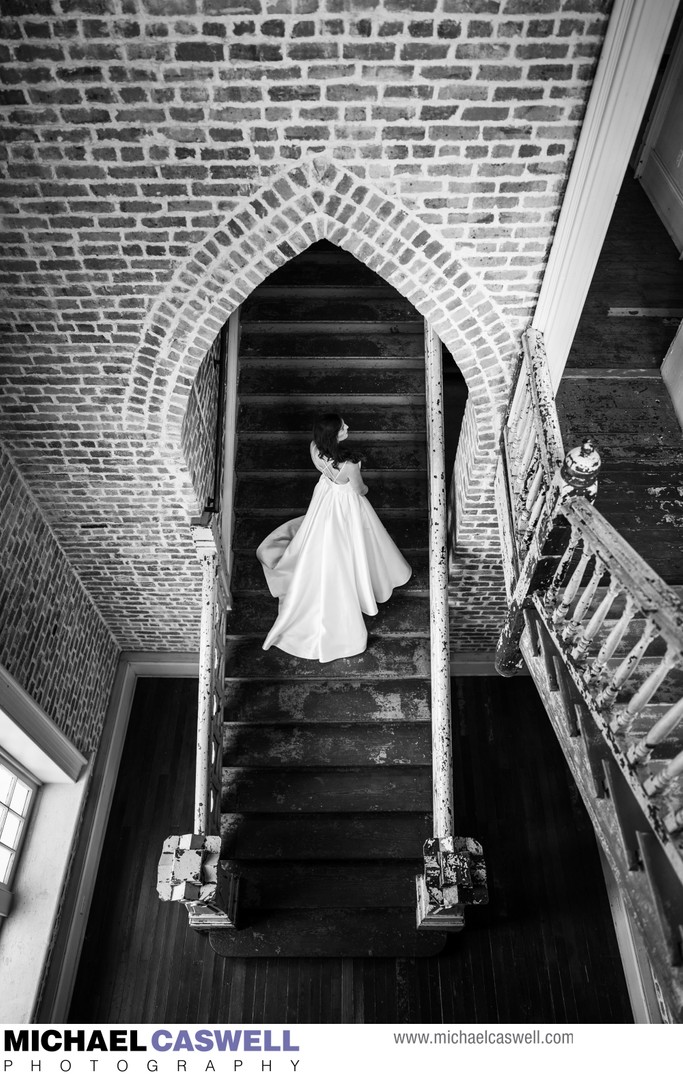 The venue features numerous nooks and crannies, providing a good variety of areas in which to shoot.
The wedding took place at Latrobe's on Royal a month later. Here's what the couple had to say afterward:
We can't thank Michael enough not only for his excellent photos but for being an absolute breeze to work with, from start to finish. He navigated us through French Quarter Fest like a rockstar and captured all of the memorable moments throughout our wedding while never getting in the way. We strongly recommend him and wish him nothing but success—5 STARS!
Location: 1220 Felicity St, New Orleans, LA 70130.