Palmettos on the Bayou Wedding in Slidell Louisiana
Palmettos on the Bayou is a great place for a wedding in Slidell, Louisiana. Located on Bayou Bonfouca, near the old train station and Slidell's newly constructed marina facility, it features a charming rustic look, a pleasant feeling of seclusion, and beautiful scenery. A walkway leading from the restaurant to a fairly large dock on the bayou is a great spot for a first look and portraits of the couple.
This Texas couple had a fantastic wedding on a gorgeous October afternoon. After some fun bridal party shots on Canal Street, we headed over to beautiful Holy Name of Jesus Catholic Church in New Orleans where the ceremony was to take place.
At the conclusion of the ceremony, the guests boarded buses to transport them to Slidell for the reception at Palmettos. The bride and groom love fishing, so this venue's location on scenic Bayou Bonfouca made it the perfect choice for them! Upon arriving, they headed back to the restaurant's private dock where they were to enjoy their first meal as a married couple, but first shared a "first cast" together with their his-and-hers fishing rods (adorably decorated with a tiny tux and a wedding gown) – they later caught (and released) a turtle!
The event was expertly coordinated by Jennie Keller of Weddings in the City by Jennie, and Brittany with Palmettos did a fabulous job with helping to keep things running smoothly as well. At the end of the night, the couple was given a send-off by their guests with sparklers along the walkway leading back to the dock, and then departed down the bayou aboard the groom's father's boat.
Here's the great review the couple wrote for me after the wedding:
Michael was a great addition to our bridal party! All of our groomsmen and bridesmaids really enjoyed spending the day with Michael. He caught the moments and memories that were being made without interrupting. He was fun and easy to work with and did not boss us around. Everyone felt very at ease with him. He had a lot of creative ideas for shots that we would've never been able to come up with on our own! Throughout the entire day, Michael listened to what we wanted and was willing to take any photograph we requested, no matter what. We've only seen a sneak peak of a few favorite shots and we LOVE them all!!!! We can't wait to see the rest of the special moments he captured! Michael was quick to respond to phone calls and emails leading up to the big day. We are so happy and very grateful that we chose such a talented, professional, and personable photographer for our wedding!
Wedding Ceremonies at Palmettos
While this couple chose to get married in a church, Palmettos can also host ceremonies on-site, which can take place under the graceful oak tree in the outdoor area adjacent to the restaurant, or on the rear deck. Most of this deck area is covered now by a recently constructed roof, which takes away much of the worry of possible rain.
Here's a photograph from a different couple's event that shows an example of what a wedding ceremony at Palmettos by the oak tree can look like: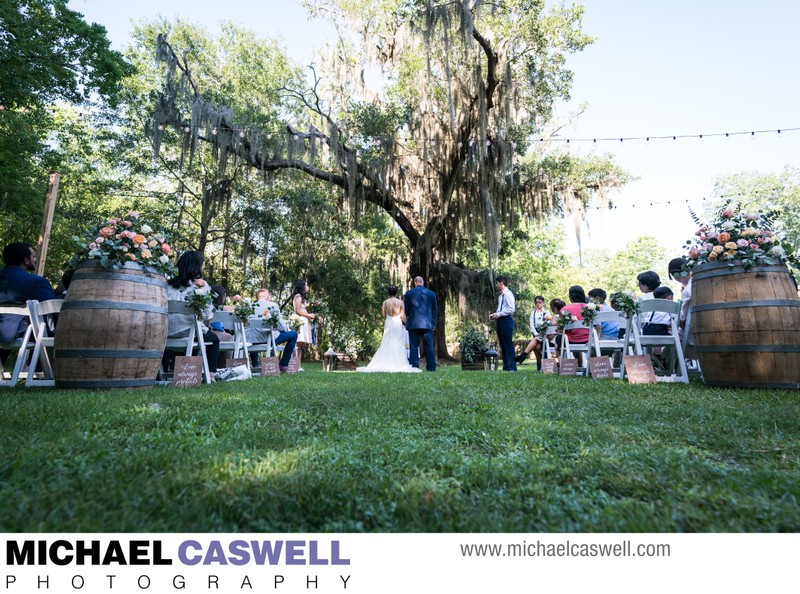 Other Wedding Venues in Slidell, Louisiana
In addition to this fantastic wedding venue, Slidell has other great locations for weddings, such as MovieSets: a Reel Venue,
Trinity Banquets and Receptions
, and Antebellum House. For much larger indoor weddings, other options are the Municipal Auditorium, and the Northshore Harbor Center. Another great outdoor wedding venue is Garrett Field (which is literally two minutes from my house!).
Location: 1901 Bayou Ln, Slidell, LA 70458.