Reception at Oak Crest Mansion Inn
At Oak Crest Mansion Inn in Pass Christian, Mississippi, this happy bride and groom laugh as they enjoy their first dance as husband and wife in the spacious ballroom located at the rear of the main house. Though the venue as a whole has a classic appearance in general, the ballroom has a bit of a more modern look, but is still very elegant.
Wedding ceremonies at Oak Crest Mansion Inn can take place outdoors, or inside, and there are accommodations for the couple to both get ready on-site (which can go a long way in making the wedding day a more enjoyable, stress-free experience). Plenty of great spots are available for portraits as well.
At the end of the night, the newly married couple departed from the ballroom through sparklers, always a memorable and exciting way to end a reception!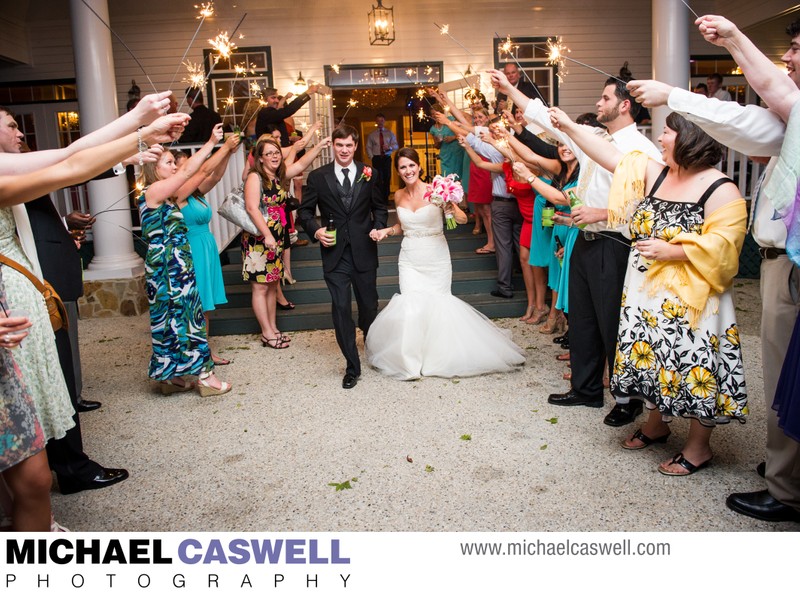 The timing of lighting the sparklers is crucial, so it helps to have a good coordinator, or designate a very assertive guest to handle this to ensure that people don't light their sparklers too early, and to also assist in directing them on how to quickly and efficiently get them all lit so that the ones lit sooner don't burn out by the time the last ones are lit and the couple comes out. In the case of this wedding, Susie with A Plan to Remember was on hand, so the sparkler send-off went perfectly!
Location: 5267 Menge Ave, Pass Christian, MS 39571.