Bride and Groom Last Dance at Slavonian Lodge Wedding
This Tennessee couple's wedding reception at Slavonian Lodge in Biloxi, Mississippi ended with an intimate and romantic "last dance" for just the bride and groom, with all the guests having been assembled outside for the sparkler send-off.
The couple started out their day at the luxurious Beau Rivage. A bridal portrait on the stairs in front of the hotel was at the top of the bride's wish list!
The bride had her a first look with her bridesmaids in front of the hotel as well.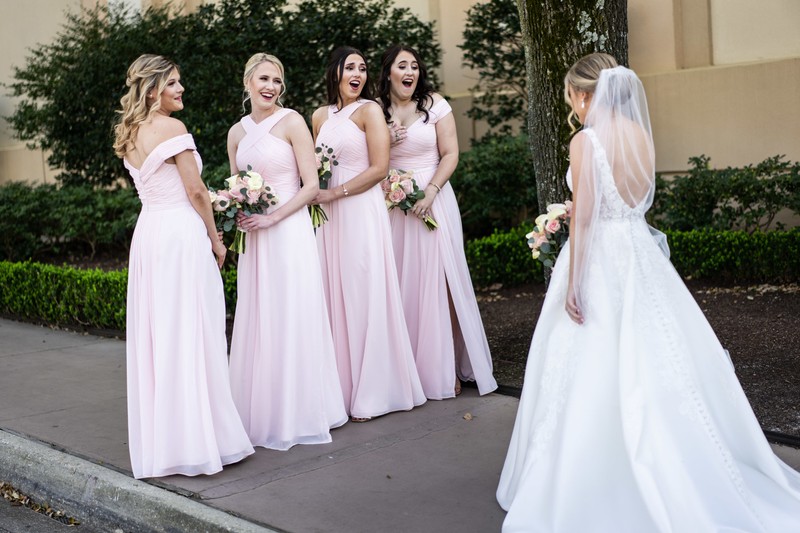 And not to be left out, the groom also had a bit of a tongue-in-cheek first look with his groomsmen!
The ceremony took place at Cathedral of the Nativity Blessed Virgin Mary.
Afterward, we had just a few minutes of perfect light outside for some portraits of the newly married couple in the church's garden. This is where good planning comes into play, as the ceremony would be ending just before sunset, giving us very limited time for these portraits. Often at the conclusion of the ceremony, guests will approach the bride and groom to congratulate them, and the couple does not want to be rude, so in a case like this, it can take away those last precious moments of daylight we have remaining. The solution is to make sure that as soon as the ceremony is over and the couple recesses down the aisle, they immediately are escorted outside, with the wedding coordinator playing the "bad guy" if needed, letting guests know that there will be plenty of time to congratulate the couple during the reception.
After the reception's last dance, the night was capped off with a spectacular sparkler send-off!
Location: 159 Maple St, Biloxi, MS 39530.