Bridal Portrait at The Old Place in Gautier, MS
I photographed this beautiful Ocean Springs, Mississippi bride at La Maison Gautier, locally known more commonly as "The Old Place". This historic home is almost 150 years old, and is located on the Singing River in Gautier, MS.
As soon as I stepped out of the car and began looking around to determine the various locations on the property where I wanted to shoot, this spot along the white picket fence caught my eye right away, as I felt it would be visually interesting with it's rural appearance, and more importantly, the light here was great, providing a beautiful rim-lighting on the bride's shoulders and hair. Though it's natural to want to choose an area for a portrait based on the background and other elements that will be present in the photograph, in actuality it's almost always best to find a spot that has good light, and then find a composition that works, rather than trying to force a good background with bad light into an attractive image.
Of course, less-than-ideal light can be worked with when needed, as there are some instances where a particular background is desirable, even though the light in that spot and direction may not be perfect.
Here's another portrait from this session. This photograph was purposely captured without any use of flash. Though adding artificial light is perfectly appropriate for many images, especially if the bride had been facing the camera in this backlit scene, I chose to just let the natural light from the window create a more graceful and timeless look, which perfectly complimented the elegant space that we were shooting in.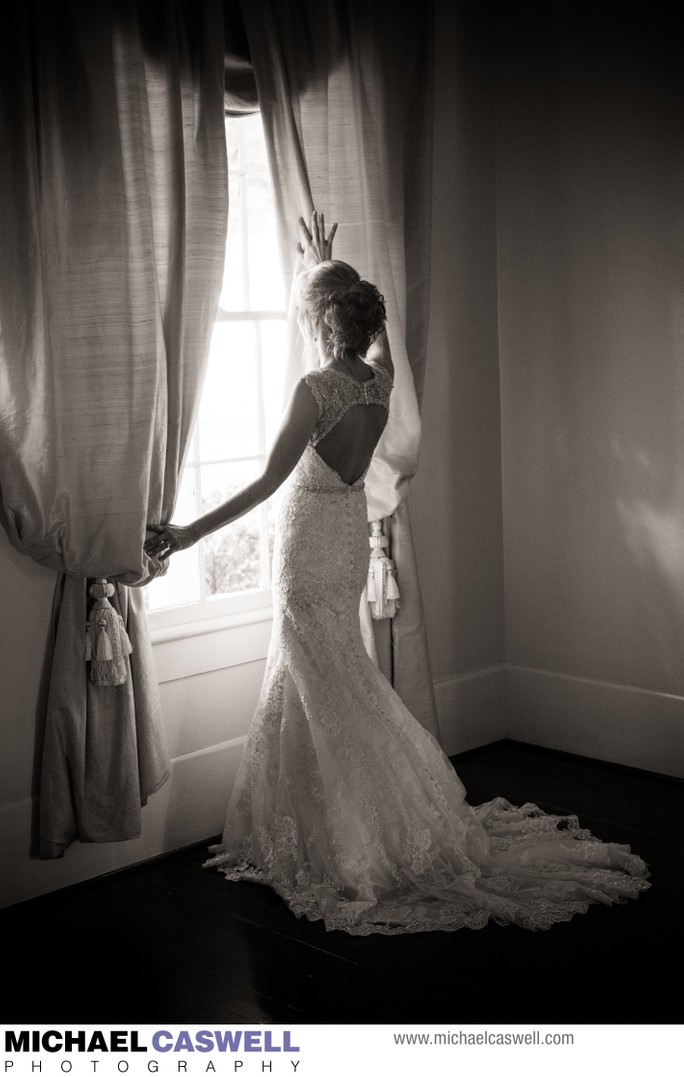 La Maison Gautier is a great location for engagement portraits and bridal portraits, and also serves as a venue for weddings and other events.
Location: 2800 Oak St Gautier, MS 39553.