Wedding Ceremony at The Gallery Venue at Tomas Bistro
Recently renamed as The Gallery Venue at Tomas Bistro, this is a lovely event venue in the downtown area of New Orleans. It features a spacious main ballroom that is perfect for wedding ceremonies and receptions, as well as smaller rooms throughout the restaurant that can be utilized as secondary spaces, for the wedding cake, buffet-style food, or just a place where guests can converse away from the loud music of the reception.
This couple's ceremony and reception both took place in the spacious and gorgeous Gallery Room, with the stunning floral decorations being crafted by Herbivore. But we started out with a first look right down the street at Lafayette Square Park, which is on St. Charles Avenue across the street from historic Gallier Hall. After some portraits of the couple in that area, we headed to the venue, where we were able to get all of our formal group photographs completed before the ceremony.
After the ceremony, because the reception was also to take place in this same space, everyone hit the streets for a festive second line parade while venue staff flipped the space for the party, and the reception band completed their setup (they had already partially set up before the ceremony, with venue staff creatively masking this equipment with portable freestanding screen walls).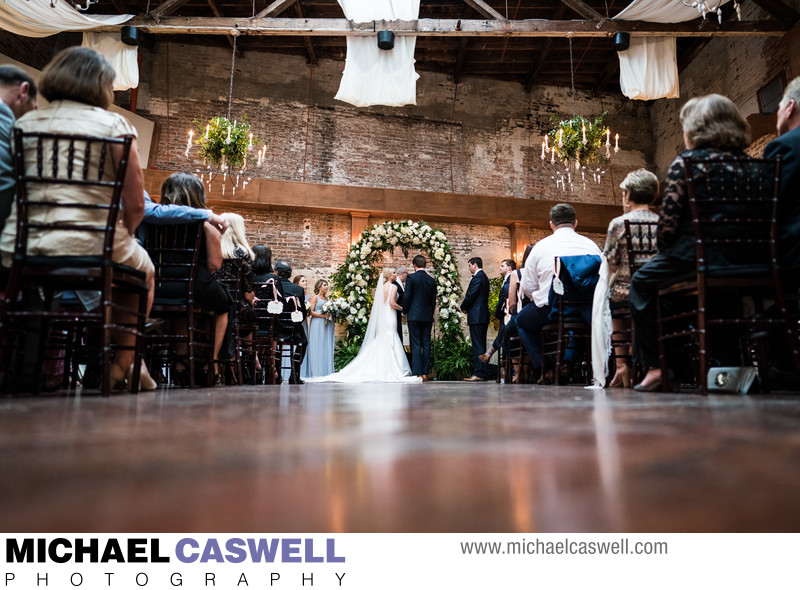 Here's a nice review the bride wrote after the wedding:
Michael was the best! He met with me before the wedding at my venue to go over things that I envisioned and wanted for my wedding day. We did a first look and family/wedding party pictures before the wedding and everything went so smoothly thanks to Michael. I could not believe how well our pictures came out, Michael exceeded all of my expectations and he was so pleasant to work with. Can not recommend him enough!
Location: 755 Tchoupitoulas St, New Orleans, LA 70130.