Beach Wedding Portrait of Bride and Groom
Dramatic cloud formations just before sunset made for an impressive background for this portrait of a bride and groom sharing a kiss after their wedding ceremony. Though it looks like it's about to storm, the weather was actually quite pleasant for the entire evening.
One of my joys as a wedding photographer is hearing how much my couples love their photos. But this particular image prompted a compliment from a completely random visitor to my Instagram who messaged me out of the blue one day:
Hi Michael. I'm a fellow Slidellian. Just had to say that the bridal couple picture you took on the pier in Destin with the amazing light is beyond words. I will recommend you based on that picture alone! Cheers!
Though the bride and groom actually had done a first look a few hours earlier (which is often done so that we can do formal group photos and couple portraits before the ceremony), we decided to mainly focus on the formal group shots at that time, waiting until we had the best light out in the open for the portraits of the bride and groom, and the timing of the wedding ceremony was precisely planned and executed by wedding coordinator Sue Rudiger of Beth's Flowers to give us this perfect light to work with after the ceremony.
This kind of timing can be difficult to pull off, and is a good example of how an experienced wedding coordinator can be a worthwhile investment. In this particular kind of situation, the best light literally lasts just a few minutes, which is a very tight window to work with. If the ceremony starts late or runs long, there's a risk of losing this precious little bit of post-ceremony portrait light. But at the same time, you don't want too big of a gap between the end of the ceremony and the best portrait light. In this case, the timing was perfect, with the ceremony beginning on time and there also being a brief cushion of time built in at the end to give us time to get warmed up so that we were ready when the perfect light arrived.
It's also important to have a plan for ensuring you don't get held up at this time by well-meaning guests who, not realizing that we only have a short amount of daylight remaining for our portraits, will line up to greet and congratulate the two of you (putting you in an awkward spot, since you don't want to appear rude by cutting these interactions short). Discuss this with your coordinator and/or venue staff to ensure that you get whisked away for pictures immediately at the conclusion of the ceremony, and then you'll have the rest of the evening to greet your guests!
Here's another of my favorite shots from this portion of the wedding day coverage, in which I simply asked the bride and groom to casually walk along the pier and pretend like I wasn't there. It's not always easy to do this when a camera is pointed at you and you're the center of attention, but this couple did a great job! While the traditional posed wedding photos are still essential to get, I really enjoy capturing more casual and candid-style portraits like these, and the feedback I receive from my couples is that they greatly prefer these images as well.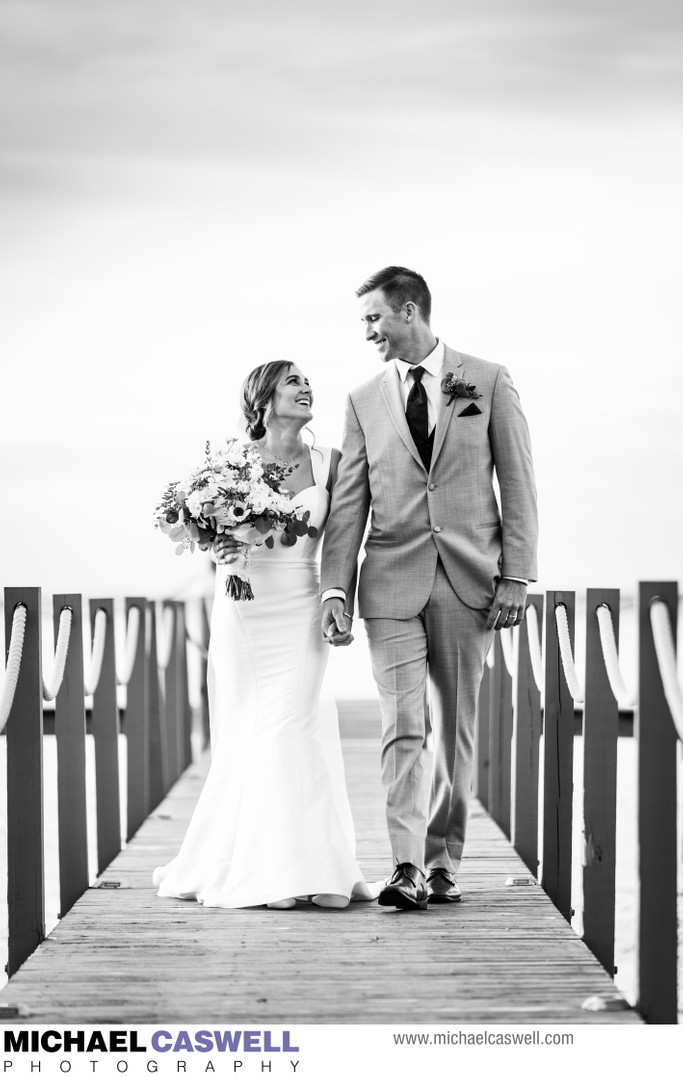 But again, these types of photographs won't generally happen by accident... if you do want to incorporate these kinds of portraits into your wedding day, it's important to plan appropriately to ensure we have an appropriate block of time set aside.
Now, for some events, the timing simply may not be practical for us to capture the kinds of portraits you had in mind. In cases like that, another option to consider is a "day after session". This is a separate portrait session that takes place soon after the wedding (sometimes literally the next day, but not necessarily... it could be a week or two later). The biggest benefit of this type of session is that it gives us the opportunity to capture memorable portraits of the two of you in a more relaxed setting, completely independent of the constraints of the wedding day timeline, and in a different location if you wish. On the other hand, it does require you to get dressed up in your wedding attire again, and have professional hair and makeup done. But the couples who have opened for this post-wedding portrait session consider it to be well worth the trouble!
Location: Destin, FL.